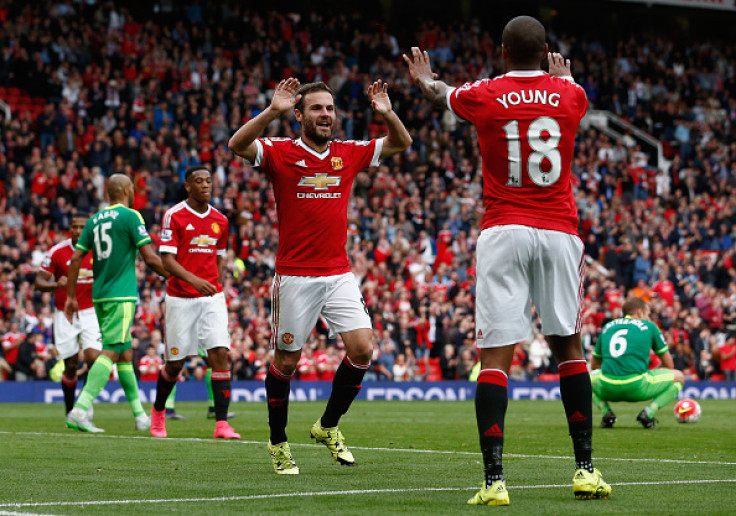 Ashley Young has revealed that Manchester United are eyeing to challenge for the quadruple and not just the title this season. The Red Devils made their way into the fourth round of the Capital One Cup after a convincing 3-0 win over Ipswich Town, banishing memories of their capitulation against MK Dons at the same stage in 2014.
The Red Devils have been in brilliant form thus far, helped by new acquisition Anthony Martial, who has already scored three Premier League goals, taking United to the top of the league, their first time in over two years since they won the title in 2012/13. Their European campaign has not had the same start as expected, as they lost to PSV Eindoven in their first game. Luke Shaw was injured in the game, and could be out of action for at least six months.
Young has also got back into favour at Old Trafford, with the manager willing to use him as part of the front three, as a striker or on the wings. The England international came on as a substitute and played a crucial role in rejuvenating the team for their Liverpool game, which they went on to win 3-1. The game played a huge part in getting their season back on track, after two disappointing results on the bounce against Newcastle United and Swansea.
"We came into the season saying we wanted to fight for the title," Young told Manchester United's official website. "A club like United wants to fight for everything we're involved in – the league, the Champions League and both the cup competitions. We want to get ourselves back to winning silverware. We're doing well in the league but there is a long way to go, so we just take each game as it comes.
The Red Devils have an important week coming up ahead with games against Wolfsburg and Arsenal on the agenda. A win on both counts would take them closer to reaching their goal of ending their trophy drought this season.