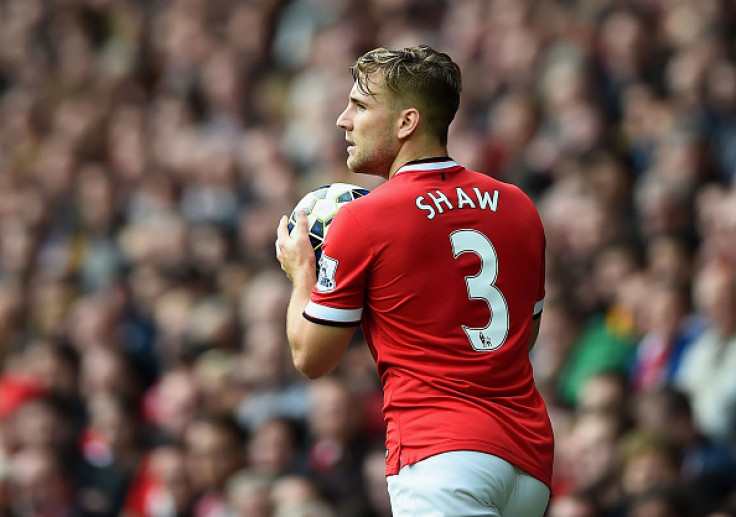 England boss Roy Hodgson is hoping Luke Shaw will be made available by Manchester United for England's Euro 2016 campaign in France later this year if he makes full recovery from a double leg fracture he sustained earlier in the campaign. The left-back suffered the injury during the Red Devils' clash against PSV Eindhoven in the Champions League.
The Three Lions manager has handed the 20-time English champions a boost by revealing that the defender, whose recovery is progressing well, has a possibility to return to full training and getting fit to start a game before the end of the season. Hodgson, however, is unsure if the club will risk him in the latter stages of the season, as they could chose to rest him and keep him fresh for the next campaign.
Louis van Gaal has indicated that he will play Shaw, if he recovers from his injury, when he gave his injured players an incentive of playing in a cup final at the end of the year.
Arsenal's Jack Wilshere and United skipper Wayne Rooney are also out injured and the former Liverpool boss has given them hope of making the squad for the European Championship finals, if they can prove their fitness by returning to action for their clubs before the end of the current campaign.
"Luke's in the same position as Wayne Rooney and Jack Wilshere. Luke Shaw's a player we believe in, we think is an excellent talent. We think he will be a major competitor with the other left-backs for a place in the squad. All that remains is for him to get fit enough to be selected," Hodgson said, as quoted by Sky Sports.
"I spoke to Luke on Sunday and he said to me that things are going well and that's good news. We're in the hands of the club, to some extent. If they decide they don't want to risk him in the final games, they do want to hold him back, they want to give him a pre-season to get 100 per-cent fit, there's not much I can do."
"I would be a little bit disappointed. I think the player deserves the opportunity, if he is fully fit, to be given a chance of being selected. But I would understand it. It's a decision the club will make hopefully in tandem with the player and I will respect it," the England manager explained.
"I don't interfere with club business. I've been a club manager and you can't always expect the agenda of the club and international manager to coincide."