Javier Hernandez has more than proven his worth to Sir Alex Ferguson this season, the Manchester United manager said, with the striker scoring twice to take the side to an important 3-2 win against Aston Villa at the weekend.
When last summer rolled around, Ferguson shocked the footballing world by purchasing Robin van Persie from Arsenal, adding to a striking line-up that many experts had insisted was already extremely strong.
Wayne Rooney was always going to be firmly in Ferguson's plans this season, while Danny Welbeck was also on form and building on a successful first season with the United senior side. And as a result, many questioned just how important Hernandez would be for the side after a lacklustre second campaign in England.
Rumours swelled that an exit might be near for the Mexico international, with Chelsea believed to have enquired over his services, but Ferguson insisted he would maintain belief in the striker, who hadn't had a proper summer's rest in two years.
And this belief in Hernandez's ability has paid dividends, with the star showing that he had the potential to be world class in standing tall alongside Rooney and van Persie, and taking advantage of every opportunity thrown at him so far this season.
Currently, his goal tally sits at eight, only three behind van Persie. He's now scored in the last five games and has cemented a spot in the starting line-up for next week's match up with Norwich.
"As I have been saying for the last few weeks, he's fresh as he had a good summer break and it's made a difference to him," Ferguson told the Manchester Evening News.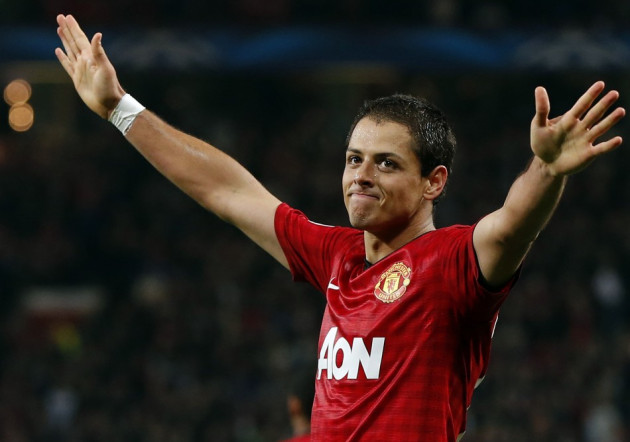 "When he came to us two years ago, that's what we're seeing again today and, when you score a hat-trick, you pick yourself.
"I think he'll be playing next week."
To get a spot alongside the likes of Rooney and van Persie, and push Welbeck who's touted as a future star for England aside is no easy feat. And in typical selfless fashion for the 24 year old, Hernandez insists he only cares about the team's progress this season and how he can contribute to that.
"I've seen the replay and I think it's going on target," he explained. "The defender tried to get it away but I think he kicked it in the same direction as I shot.
"It felt unbelievable to score the winner. But the most important thing is we get the three points and we're still on the top. We're very happy.
"The boss just told me to go on and to do my best, to do the things I have been doing in my last few games and on the training ground as well.
"I have a lot of best moments with this club and this is one of them."
United have struggled this season in their defensive line-up, with injuries causing issues for the side as Chris Smalling, Phil Jones and Tom Cleverley had lengthy spells out of action.
But at least Ferguson can have trust in his players up the front of the park, with Hernandez looking to better his stunning first season at the club where he drew comparisons to Ruud van Nistelrooy and Ole Gunnar Solskjaer.