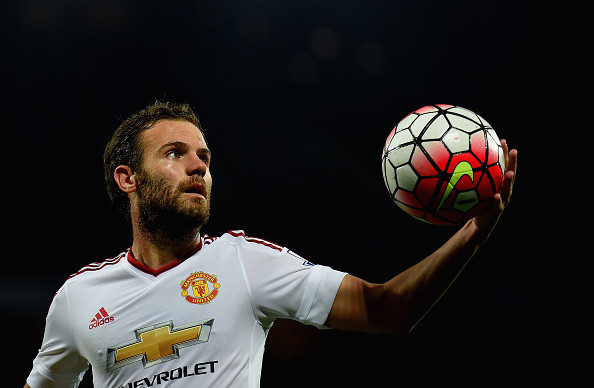 Manchester United star Juan Mata believes the added competition in attack following the summer arrivals of Memphis Depay and Anthony Martial is helping the rest of the squad up their game. The former Chelsea playmaker has mainly featured on the right flank during the current campaign, but says he is ready to play wherever Louis van Gaal desires.
The Spanish international moved to Old Trafford in January 2014 after falling out of favour with Jose Mourinho, despite having twice been named Chelsea player of the year. He has experienced ups and downs during his time at the club but is now a pivotal figure for the Dutch boss as one of the four attackers in his line-up.
Despite competition from the likes of Depay, Martial, Ashley Young, Wayne Rooney, Marouane Fellaini, James Wilson and Andreas Pereira for a spot in attack, the Spaniard has started all games so far this season, scoring one goal and assisting three.
"It is tough but I think every player needs competition to grow as a player. You must not fall asleep and take your position for granted. The competition helps us a lot," Mata said to the club's official website.
Mata is known to favour the number 10 role, but Van Gaal has mainly deployed him on the right flank of the attack. The Spaniard says he is not a traditional winger but he feels comfortable in the role.
"It helps [to play in the same role during an extended period]. You get used to the players, you get used to the movement of your team-mates, but I also think it's good for me and any player to be able to play in different positions, not just on the right or left or as a number 10. I have played in those positions a lot in my career but I think I can play in every position offensively in the team and I think that's good for me to grow as a player.
"I've really enjoyed it. Obviously I am not a winger, if you imagine an old-school winger who is trying to play one-against-one and to cross the ball. I try to find my spaces from the right and cut inside and in behind, and try to assist my team mates. I really enjoy it there.
I think it's very important for us to create little triangles on the wings with myself and Matteo [Darmian] and then with the midfield. That's what the manager wants and we can play inside and outside. It's good for us to be able to create chances for the striker."