Manchester United could be forced to pay as much as £25million if they want to sign PSV-Eindhoven midfielder Kevin Strootman.
The Holland international has repeatedly been linked with a move away from PSV after managing to become a first team regular ahead of club legend Mark van Bommel.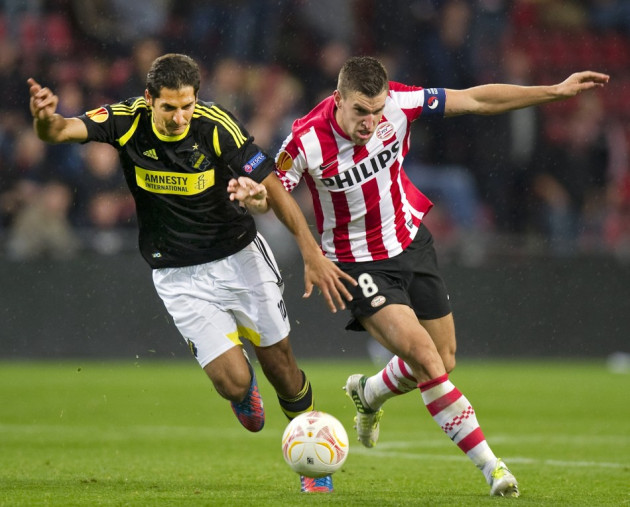 Strootman has consistently been linked with a move to Manchester United, however, his agent has dismissed the idea that he could leave in January and suggested that he could move at the end of the season.
"My client could leave in January? Absolutely not. There's nothing in that," Strootman's agent Chiel Dekker told The Metro. "We are only in October - the only thing I can say is to call me back in May."
The Metro is reporting that Manchester United would have to make a bid in the region of £25million as the midfielder is tied down to a five year contract which he signed when moving from Utrecht in the summer of 2011.
PSV managed to sign Strootman and Belgium international Dries Meertens for a combined fee of €13million, with both players going on to impress and earn rave reviews.
Since the switch to PSV, the 22-year-old has impressed for both club and country, recently captaining Holland against Andorra and being earmarked as the man to succeed Van Bommel in this role on a permanent basis.
Manchester United have been consistently linked with Strootman after question marks were raised over the strength of the sides midfield and their inability to find a long-term replacement for Paul Scholes.
The 37-year-old has still been a vital player for the club this season and manager Sir Alex Ferguson will know that he cannot keep relying on the United legend.
The Metro suggests that United's midfield is still a cause for concern and that Strootman is the player wanted to strengthen this area, but if they cannot convince PSV to sell then they will turn their attention to Celtic's Victor Wanyama.