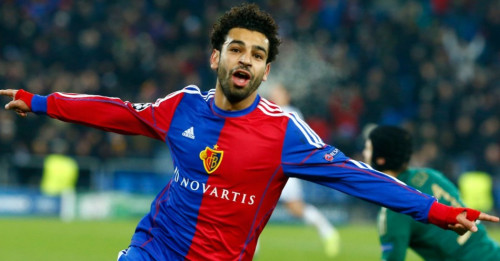 Liverpool will face competition in their pursuit of Mohamed Salah with clubs in Spain and Germany in addition to Manchester United and Chelsea also considering the Basel winger, reports suggest.
The Reds are understood to be favourites to sign the 21-year-old during this January transfer window with reports suggesting the club are close to sealing a £9m move for the Egypt international.
But Swiss newspaper Basler Zeitung report that the move is still some way of completion with Salah expected to return to his club for training on Saturday.
Perhaps more worryingly for the Merseyside club, several other big names remain in the hunt for the free-scoring winger, including Bundesliga duo Bayer Leverkusen and Wolfsburg, Spanish challengers Atletico Madrid and Liverpool's Premier League rivals United and Chelsea, according to the same publication.
The Reds will be hopeful United and Chelsea do not make their interest in the winger formal given that Salah revealed two of his favoured destinations were Stamford Bridge and Manchester United late last year.
"I want to play for one of the best teams in the world," Salah said, speaking after his side's win over Chelsea in the Champions League in November.
"My favourites are Real Madrid, Manchester United and Chelsea."
Numerous reports have suggested that Liverpool are on the brink of securing a deal for Salah, who starred against English opposition in both the Europa League and the Champions League in 2013.
Talk of an imminent move were fuelled when his former teammate Mohamed Zika told the Egyptian media that the winger was "99 per cent" sure of the transfer happening.
Former Tottenham Hotspur striker and Egypt international Mido has also expressed his confidence over the move happening, tweeting that a deal will be finalised by next week.
Should Liverpool secure a deal for Salah, reports suggest Rodgers will allow Raheem Sterling to join Swansea City on loan until the end of the season. The 18-year-old has enjoyed a run in the first team in recent weeks with Daniel Sturridge currently ruled out with injury, but the Liverpool boss may be open to handing a boost to his former club should his side secure a deal for Salah.