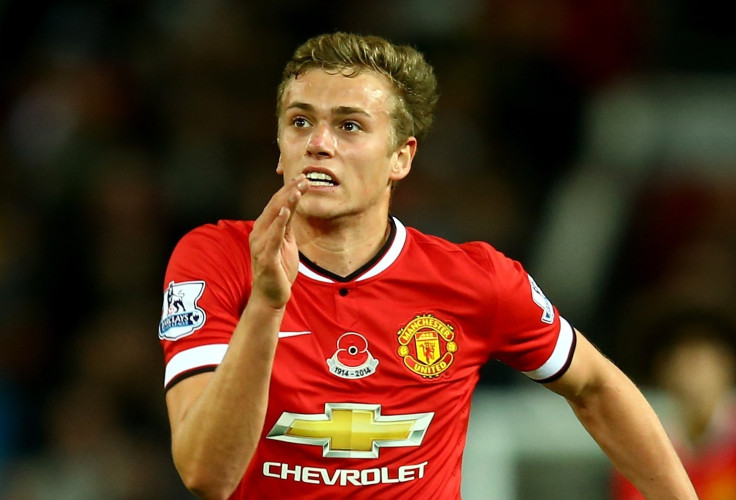 Ex-Manchester United striker Ole Gunnar Solskjaer has urged academy star James Wilson to mirror former Arsenal striker Robin van Persie in order to successfully establish himself at Old Trafford.
After making a sensational debut under interim manager Ryan Giggs last season, scoring a brace in the 3-1 victory over Hull, the 19-year-old is starting to become a regular for United manager Louis van Gaal.
Even though Wilson missed the first games of the season due to injury, he has made seven Premier League appearances with the first team.
Van Gaal recently claimed Wilson is ready to compete against Radamel Falcao and Robin van Persie for a place in the starting XI and he has handed him a couple of starting role ahead of the Colombian striker in recent victories over Stoke City and Liverpool.
Solskjaer has urged him to take advantage of working on daily basis alongside a top number nine such as Van Persie to improve further.
"As a young striker, he can't have a better mentor than Robin van Persie – my message would be to just copy your game from his, it's that simple," the former United striker said to the club's official website.
"There's definitely something there. He's got pace, he can finish and, when his body fills out, he'll improve even more."
The Norwegian is not surprised about Wilson's breakthrough into the first team under Van Gaal as he revealed everyone at the club knew he was going to have a chance sooner rather than later when he was Reserves coach under Sir Alex Ferguson.
Solskjaer said: "I never trained James Wilson during my time as Reserves manager at United. But I was well aware of him.
"I got to work with the gang from 1993, with Ryan Tunnicliffe, Paul Pogba and so on but James was among the 1995 boys. I watched him regularly playing in the Under-18s and Under-16s and we all knew he was going to have a chance."