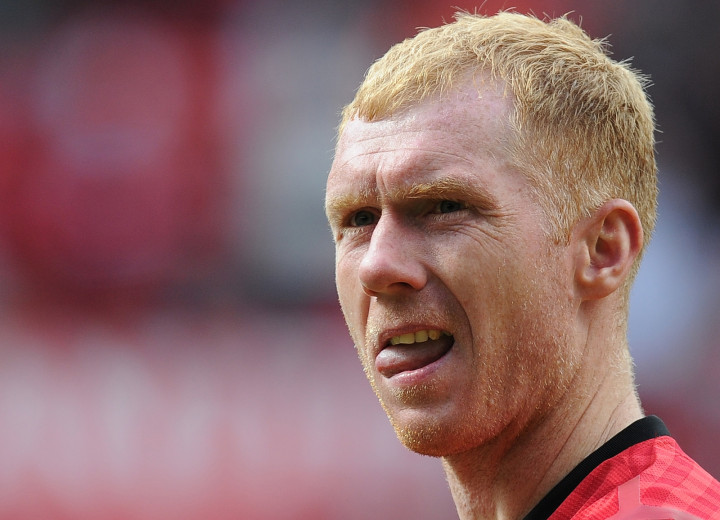 Paul Scholes is not upset by Manchester United manager Louis van Gaal's decision not to include him in his Old Trafford coaching team.
Scholes ended last season alongside Ryan Giggs, Phil Neville and Nicky Butt in United's backroom team and was expected to be handed a role among Van Gaal's staff ahead of the new campaign.
However, having agreed to a number of media roles, the latest of which came on Thursday (5 August) when Scholes was confirmed as a new columnist with The Independent and The Evening Standard, Van Gaal's chance to bring in the former United midfielder has passed.
Scholes admits that although he held a short-term role with United last season, he does not have a natural desire to coach.
"Did I enjoy coaching? A little bit, I suppose. It is not something I love doing ... My A license which is a bit more difficult, the next step, would be nice to get if something came along," he told The Independent.
"Maybe one day I would like to be in charge of my own team but it is not something I am thinking about now. You can never say never. If an opportunity came along that got me interested a bit then maybe. But it's not something I am looking for.
"I am not really bothered about pressure or it being a tough job. In the coaching stints I have had I don't know if coaching is something I am that passionate about.
"It is not something that has really got me going. It's not something that gets me out of bed in the morning thinking 'I really want to do this'. But in the next couple of years, who knows? Things might change. If something came along that really did excite then who knows? It could be different."
While Giggs has been appointed as Van Gaal's assistant and Butt has been installed within the youth system, Scholes will instead take on a prominent media role this season with BT Sport and ITV, despite being a much-heralded professional player during his 20-year career.
And the 39-year-old admits that though he enjoyed his brief coaching stint at United, he found the relentless workload too much to bear.
"I enjoyed it," he added. "It was hard work. I did do a bit with the Under-21s when I retired the first time for six months with Warren Joyce which was good as well. To be with the first team was a good experience, just to help Ryan in any way I could.
"We would like to have won four games and maybe Ryan would have had a better chance to get the job full-time! It was great working with him, and being with Nicky and Phil. Ryan was great as well and I am sure he is being groomed to be the manager in the next few years."