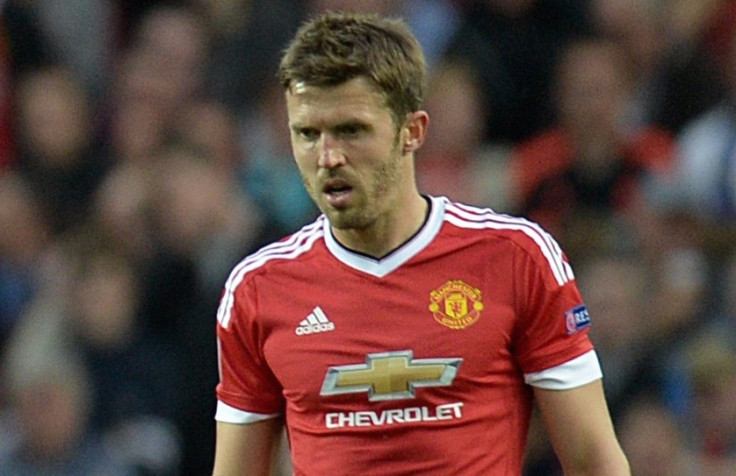 Manchester United manager Louis van Gaal has calmed concerns over the half-time substitution of Michael Carrick during the Champions League playoff win over Club Brugge. The England international, who scored an eighth minute own goal, was replaced by Bastian Schweinsteiger at the break but the former Netherlands coach has confirmed the move was tactical rather than dictated by a fitness concern.
However, the 64-year-old has admitted that both Schweinsteiger and defender Marcos Rojo, who arrived late to the club's pre-season tour after being given time to recuperate following the Copa America, are both worrying short of fitness. While the former has been restricted to cameo appearances from the bench this term, the latter has not played at all this season.
With Phil Jones out after a blood clot was discovered on his calf, the absence of Rojo leaves United short at centre-back, with Daley Blind forced to play alongside Chris Smalling to fill the void. Though United are not devoid of midfield options, United fans have only had passing glimpses of Schweinsteiger so far this term, after the German became the club's marquee signing of the summer.
"No injury [to Carrick], it was tactical but also I have to build up the games for Schweinsteiger," Van Gaal explained to reporters following the 3-1 win over Brugge at Old Trafford. "We need Schweinsteiger in our team. He came to the [pre-season tour in the] USA out of a holiday and I am sorry but he is not fit. Rojo is not fit and you have to build it up.
"It is the same. When you come later [to pre-season] it is not good when you play because then you get injuries. Now I can spare Carrick and I can spare Schweinsteger. It is not so bad I think."
Though United showed greater attacking intent in defeating Brugge to take a giant step towards qualifying for the group phase of the Champions League, Van Gaal continues to face questions over the club's strike force. Wayne Rooney struggled again at the head of the attack and Van Gaal was asked about a potential deal for Barcelona forward Pedro, who Sky Sports understands had agreed personal terms with the club ahead of a £21.2m move.
"You have to ask your colleagues," the United boss snapped. "I have said that many, many times to your colleagues so maybe that is a better answer that I can give."