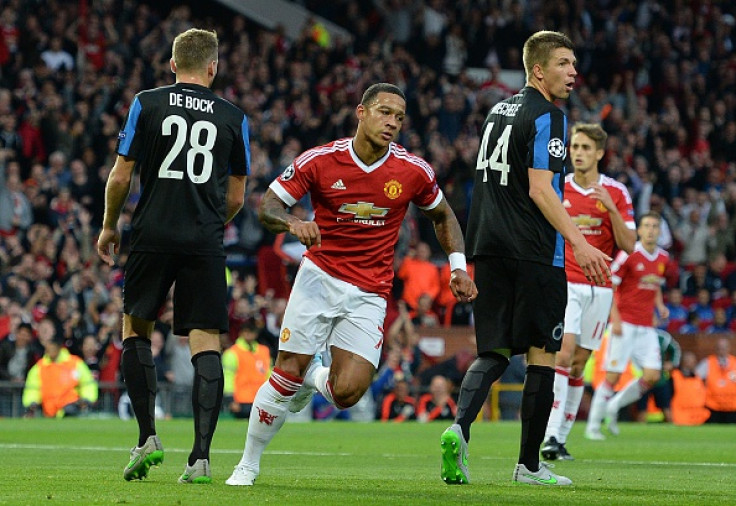 Memphis Depay expressed his disappointment after missing out on scoring a hat-trick during Manchester United's 3-1 Champions League play-off victory over Club Brugge.
Louis van Gaal's men were trailing in the eighth minute as an own goal from Michael Carrick gave the visitors an early lead at Old Trafford. However, it took United five minutes to equalise as the Dutch international opened his account for his new club.
Depay doubled United's lead before the break and had several chances to score his third goal of the match in the second half. The 21-year-old is disappointed with his individual efforts, but delighted after United sealed a crucial victory in the first leg.
"I am happy of course that I scored and we won the game [but] of course I'm a little bit disappointed that I couldn't finish the last two chances," Depay told BT Sport.
"We have to travel to Brugge and finish the job over there. I ended last season with a lot of goals and you have to come to a big club and do the job again. It's a nice feeling to come to Old Trafford and score my first two goals.
"I am a little bit disappointed [about missing out on a hat-trick] and I will forget about it tomorrow but tonight I will think about that last chance."
Depay moved to United from PSV Eindhoven earlier this summer. Luke Shaw helped the winger settle quickly at Old Trafford and the left-back is positive of building a partnership.
"Of course I am really happy for him today. He is working so hard in training; he was really trying to get that first goal. Now he's off the mark, hopefully it can bring him many more goals," Shaw told United's official website.
"I think our relationship is starting to build up, we have played a couple of games together and I am starting to understand how he wants to play. It is great to be playing with him, he can beat a man and he likes the attacking support from me as well – which is something I like to do."