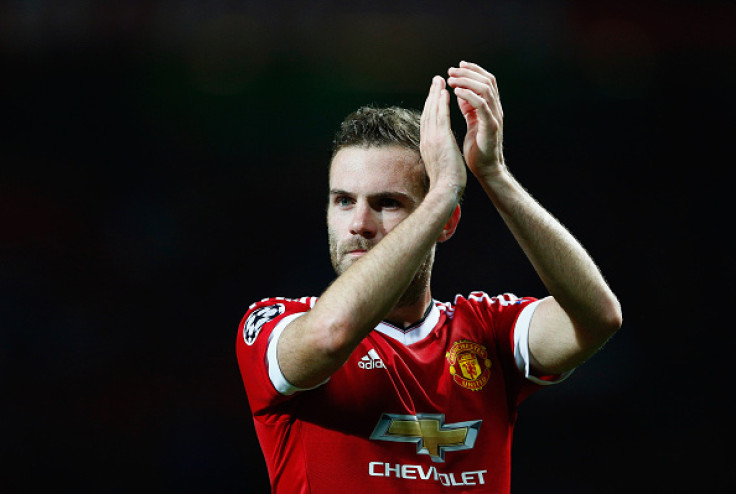 Manchester United manager Louis van Gaal has revealed the reason for withdrawing in-form midfielder Juan Mata at half-time during their 3-0 win over Everton at Goodison Park on Saturday (17 October). The Dutchman maintained that it was a purely tactical decision, when he brought on Jesse Lingard in place of the Spaniard. The former Chelsea midfielder was showing signs of fatigue and was struggling to cope with the Merseyside club's young left-back Brandon Galloway.
The Red Devils cruised to a comfortable win over the Toffees with goals from Morgan Schneiderlin, Ander Herrera and Wayne Rooney, but the manager's decision to replace the Spaniard at half-time was an eye-opener. Mata has been one United's best players this season, the former Valencia star has scored four goals and provided six assists in 14 games in all competitions, helping United to third place in the Premier League just two points behind leaders Manchester City and level on points with Arsenal. They also look comfortable in the Champions League and are on course to qualify for the knockout stages of the competition.
Lingard, on the other hand, was making his first appearance in the senior Red Devils squad since he suffered an injury in the game against Swansea City at the start of the 2014/15 campaign. He spent the second-half of last season on loan with Derby County and this campaign has seen him make a number of appearances for the United U21 side. The Dutch manager, however, was pleased with the attacker's overall performance, mainly praising his defensive and passing abilities during the second-half of the game.
"That was tactical and I was very happy, I have congratulated him [Lingard] with a good performance in the second half. He didn't lose any balls, one pass to Wayne Rooney maybe, but that is the only pass I can remember, and he did his defensive work very well so I am very pleased with his performance," Van Gaal told United's official site.