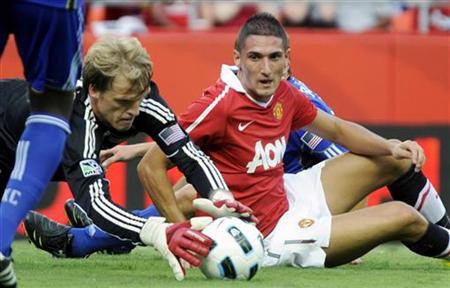 Manchester United youngster Federico Macheda has weighed in on the Paul Pogba exit speculation that has been following the club for some months now, with the striker claiming that he would do well to sign for a side in Italy.
Pogba's current deal with the Red Devils runs out this summer, and the Frenchman is stalling on signing a new contract as rumours surround a possible agreement with Juventus.
While reports went into overdrive some weeks ago that a deal to leave United had already been done, the club have kept quiet over whether negotiations have officially come to an end.
But Macheda, who had to return to United from a loan spell at QPR after suffering an ankle injury, believes his teammate would settle well into the Serie A.
"Pogba is a great player. Paul is really strong and could do very well in Italy," he told Tutto Juve.
The 20 year old also revealed that he believes Dimitar Berbatov could do well to leave the English league for more chances in Italy, with the striker entering into the last 12 months of his extended contract this summer.
"A great striker like him would be perfect," he explained.
"I think he would [fit in well in Serie A]. Berbatov could do very well in Italy because he's a great champion.
"We're talking about a very strong player, a great striker. he would do well in tandem with [Mirko] Vucinic. Berbatov is powerful and strong technically, when he is fit he makes a difference.
"He becomes virtually unstoppable with his great technique which combines with his powerful physique."
United could be looking at a group of players making exits when this summer transfer window opens; while Berbatov and Pogba are entering the end of their contracts, the likes of Macheda himself and Michael Owen also considering their futures.
Macheda had been hoping to show his abilities for QPR after securing a loan deal with the club until the end of the season, but his injury has all but ended his campaign witht he club, and leaves the Italian with no goals from three appearances during his west London stint.