Manchester United midfielder Ander Herrera reveals how his new role is designed to help Paul Pogba
Herrera, 27, has been one of United's better players this season.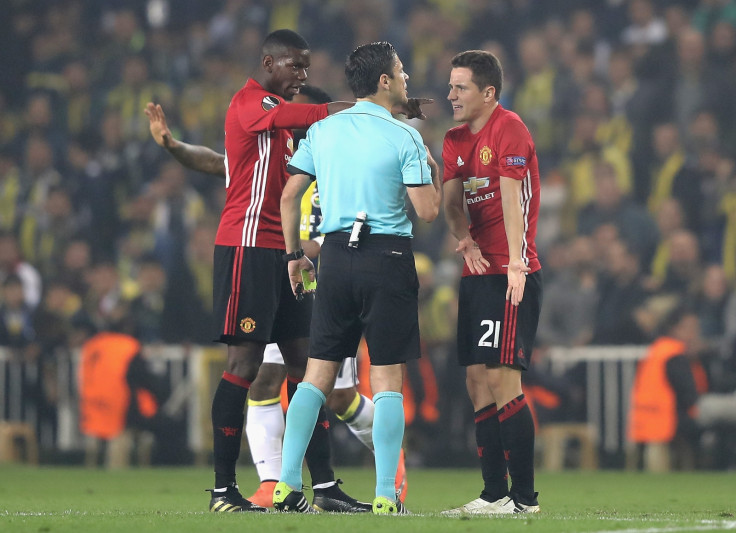 Manchester United midfielder Ander Herrera has had to compromise his own game in order to get the most from teammate Paul Pogba. The Spaniard is an attack-minded player by nature, but operates in a deeper role when he lines up alongside United's record-breaking signing.
Pogba, 23, has struggled for consistency since his £89m ($111.1m) move from Juventus during the summer transfer window. But his performances have improved in recent weeks, when he has largely played in conjunction with Herrera.
"He scores you 10 goals a season and that's not easy to find in a midfielder," Herrera told the Daily Mail of his United teammate. "With the strength he has, the way he hits the ball so well with both feet and how good he is in the air, you have to make the most of that. Whenever I play alongside him I know that I have to be the one who plays deeper."
United spent lavishly during the summer, recruiting Pogba, Zlatan Ibrahimovic, Eric Bailly and Henrikh Mkhitaryan, leading fans to believe United could mount a sustained challenge for the Premier League title. However, United have made a modest start to the season and currently sit sixth in the standings, eight points behind Jurgen Klopp's table-topping Liverpool team.
Herrera does not feel United's good performances have been reflected in their recent results. "We are still there and we should have more points than we have," Herrera said of the club's current situation. "We deserved to win the Stoke game at home and the Burnley game was incredible – to have 37 shots on goal and the other team have one and we don't win the game.
"I spoke to Juan (Mata) afterwards and we had never known anything like it. I remember on 55 minutes thinking, "It's impossible that we don't win this game". Normally this happens once a season but it's already happened twice because Stoke City was the same."
© Copyright IBTimes 2023. All rights reserved.