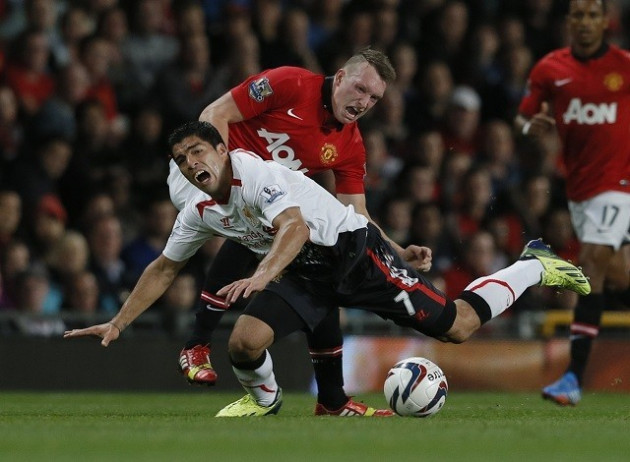 Manchester United midfielder Phil Jones believes that their win against Arsenal typified why the Red Devils are the defending Champions and should not be written off.
The Red Devils secured a hard fought 1-0 win over the league toppers at Old Trafford where a header from Robin van Persie proved the difference between the two sides at the final whistle. The game was a feisty affair with United giving everything they have on the pitch while the Gunners failed to get into a rhythm after a harrowing week which saw them beat Liverpool and Borussia Dortmund within five days of each other.
Jones, who started in midfield, had to slot in for Nemanja Vidic, who had to be taken to the hospital owing to a collision with his goalkeeper David de Gea. The win takes United to 20 points and within striking distance from the Gunners, who stay on top. Arsenal were bitten by a flu which saw Tomas Rosicky and Per Mertesacker miss out and several other players affected including Mikel Arteta, Serge Gnabry and Mesut Ozil leading to an under par performance. However, United seized on the opportunity and are currently knocking on the door to revive their title challenge.
"It proves when people doubt us, we are more than capable of standing up for ourselves and proving to people that is why we were champions last season.We weren't champions for nothing. We thoroughly deserved all the points we got last season. This is a step in the right direction going into a busy period," he told Manchester United's Official Website.
"People want us to fail because we have won the league so many times. United won the league long before I was here. Everyone hates the best clubs, it is as simple as that. We enjoy that and relish the test we get thrown at us week in, week out.
"Everyone put in a shift and dug deep. We thoroughly deserved the three points. The gaffer set us up in a certain shape all week. He went round individual players and prepared us really well. It has shown that has worked," he concluded.