Manchester United striker Wayne Rooney has taken up another challenge - to break Sir Bobby Charlton's record of goal scoring both for the club and country.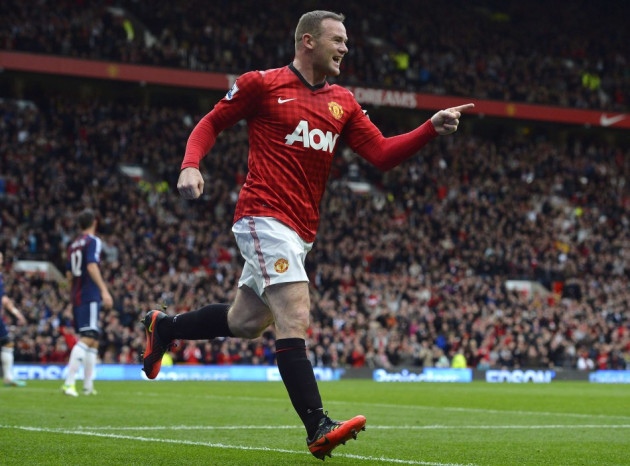 Rooney is currently United's fourth all-time top scorer with 184 goals, having recently surpassed the tally of 179 shared by George Best and Dennis Viollet.
United and England Legend Sir Bobby Charlton holds the all-time scoring record for both club and country. The former United great scored 249 goals for his club and managed to score 49 goals for England. In time, Rooney hopes to surpass both totals.

"Sir Bobby Charlton holds both so that's a great challenge. The guy is a legend and is such a presence around the club. If I could break his record as Manchester United's top goalscorer and maybe even England's... wow! That is such a great incentive," Rooney explained in an interview with Shortlist Magazine.
The former Everton striker, who has just turned 27, believes he has enough time to break Charlton's club and national records at both club and international level. Rooney wants to play as long as he can for the Red Devils and suggests that he could possibly carry on for another 10 years, following the footsteps of Ryan Giggs and Paul Scholes.
"Yeah, of course. I want to play as long as I can and to have shared a dressing room with the likes of Giggsy and Paul Scholes is inspiration to do just that. At least another 10 years would be great. I'm not sure about yoga [the regime often cited as the secret of Giggs's longevity], but to be fair, we all have different regimes and a fantastic sports science team at United, so I'm confident I can keep going almost as long as both of them," Rooney added..
Meanwhile, the Liverpudlian added that he can never show his emotion on the pitch, irrespective of whether his team wins on the big stage or ends up on the losing side.
"It's just not me. I have lost big games, massive games but I am not going to stand on the pitch crying my eyes out in front of millions of people. Same thing if we win. It's just not the kind of thing that you will ever see me do," Rooney added.