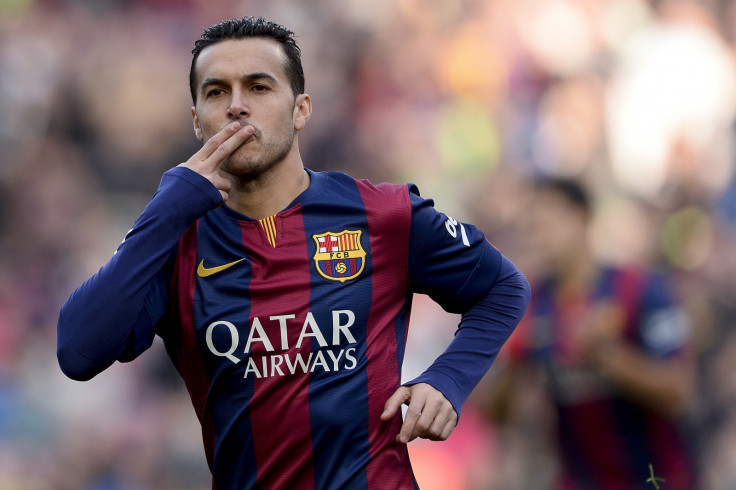 Barcelona defender Javier Mascherano hopes that Pedro's winner in extra time against Sevilla on Tuesday will convince the player to extend his stay with the Catalans.
The winger has been heavily linked with a move to Manchester United who are willing to activate his £22m ($34m) release clause, the Mirror reported. Sevilla forced Barcelona into extra time after coming back from a 4-1 deficit, where Pedro was on hand to score the winner and securing their first trophy of the season.
Talking to a journalist after the game, the winger said that he wants to stay in Barcelona, but the circumstances surrounding his future were too complicated for him to not consider a move abroad. The 28-year-old also refused to rule out a move to Old Trafford where he will be afforded new challenges to develop his game further.
"The answer is no. But it is a difficult, complicated situation. When you know you may leave it is difficult," Pedro said, when asked if he wanted to leave Barcelona, as quoted by the BBC.
"The truth is that I had a good chance to play. The coach has decided not to count on me. I don't know, I don't know if I will continue here.
"Manchester? Yes, there are nice challenges on all sides. Today I'm here, and I'm happy. And if I go, I will go with my head held high having always given everything," he added.
Mascherano who was part of the team, insisted that Pedro is a player who delivered in all the crucial moments of a campaign and his contribution to the team should not be scoffed at.
"Hopefully he can stay here. He's one of those players who's great on big occasions. He's been a magician since he joined us. He plays for special moments like this," Mascherano said on Pedro, as quoted by Goal.
However, he was not pleased with how the game had gone and insisted that Barcelona need to buckle up if they have to challenge for the title next season.
"Neutral fans won't have seen such a spectacle before. But from our side, we feel some frustration. We had things in our hands but let go of it. We must improve things because we made mistakes that complicated life.
"We fell away and let them into the game. We didn't control the game when we had to, but we had individual talent that let us win another title," the Argentine added.