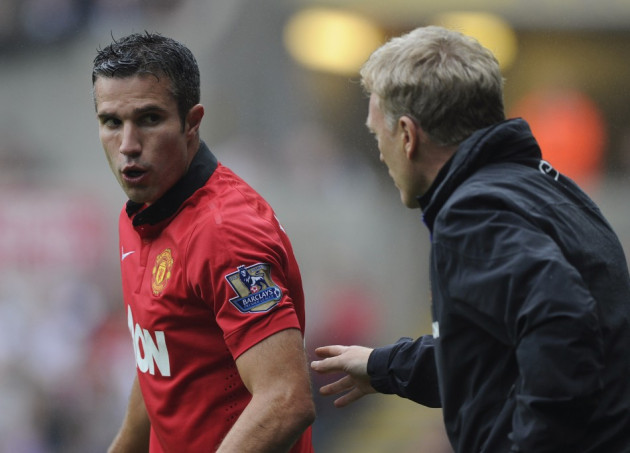 Manchester United manager David Moyes will be without Tom Cleverley and Danny Welbeck for Saturday's visit of Stoke City but welcomes Robin van Persie back after his mid-week absence.
The Holland international was left out of the squad as United recorded a 1-0 win over Real Sociedad in the Champions League on Wednesday to allow him to recover from toe and groin injuries the striker suffered while on international duty earlier in the month.
Van Persie could also be joined by Marouane Fellaini in the starting line-up after Moyes revealed the Belgian international could play wearing a protective bandage on a wrist injury.
"Robin has a good chance. He's had problems with his toes and a little bit with his groin as well, but I think he should be okay," Moyes told a press conference, United's official website reports.
"He's had a little bit of training as well. Everybody is improving and the only one who's a doubt at the moment is Danny Welbeck, who has some fluid on his knee. Tom Cleverley is still recovering from his calf but overall we're pretty strong."
Fellaini, who could delay surgery on his injured wrist until after next summer's World Cup, was an unused substitute during the week but the United boss is hopeful he will feature against Mark Hughes' side.
"It's never easy when you have an injury that needs something doing to it. People who play football will tell you use your hands and arms quite a lot for balance and pushing off, as it can be awkward when you've got an injury.
"But he's fine, he's getting used to it now and hopefully he can play even in the condition he is in."
United currently sit eight points adrift of league leaders Arsenal having already suffered three defeats in their opening eight games.
The Premier League champions have also failed to register more than one goal at Old Trafford since their 2-0 win over Crystal Palace on September 14, and have scored just one goal from open play in the league on their own turf.