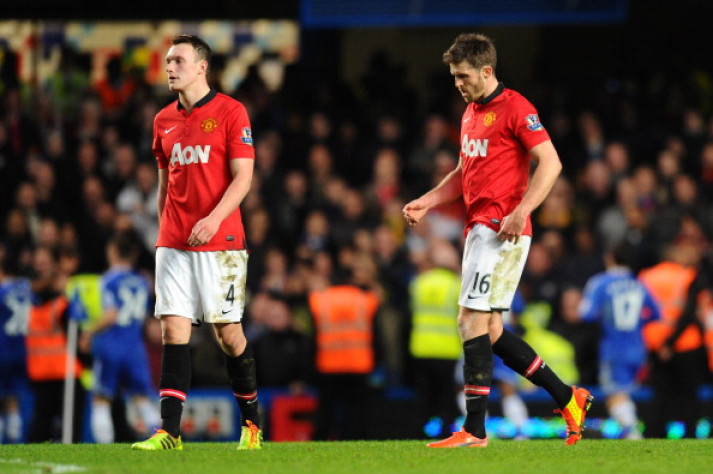 Manchester United manager Louis van Gaal has claimed Phil Jones, Daley Blind and Robin van Persie need to be assessed before they are considered for the FA Cup game against Preston on 16 February, while midfielder Michael Carrick will remain of the sidelines after suffering a setback in his recovery.
Jones was replaced by Chris Smalling just five minutes into the 3-1 victory over Burnley on 11 February after suffering a knee injury.
Meanwhile, Blind left the ground with a head injury after an incident with teammate Jonny Evans.
Van Gaal suggested the centre-back is unlikely to be ready for the game and he has doubts over Blind and striker Robin van Persie.
"I think Jones shall be difficult to play on Monday," the manager said during the press conference ahead of the Preston game.
"Blind, I don't know, we have to wait and see how he recovers. Robin van Persie also has something, so now I have given the players a day off. Only the injured players have visited our centre, but the doctor has not called me yet so I cannot say anything."
Meanwhile, Van Gaal revealed Carrick has had an injury setback.
The vice-captain picked an ankle injury during the 0-0 draw against Cambridge United in the FA Cup on 23 January and has since unable to play, missing the victory over the League side in the replay as well the Premier League games against Leicester City, West Ham United and Burnley.
Van Gaal said: "He has a fallback [setback], and that's not unusual with injuries, so we will also have to wait and see."
The United manager also responded to Paul Scholes after the Old Trafford legend claimed Van Gaal's defensive style during the current campaign is "miserable" and is against the club attacking traditions.
He said: "I don't worry about it, it's not so interesting I think because he is one of the fans, I hope, and fans can criticise. That's what I have to say about that. I am used to it and I think all the players are used to it because they are not first-time professional football players. Maybe some players are not affected, most of the time it does not affect me or the players."