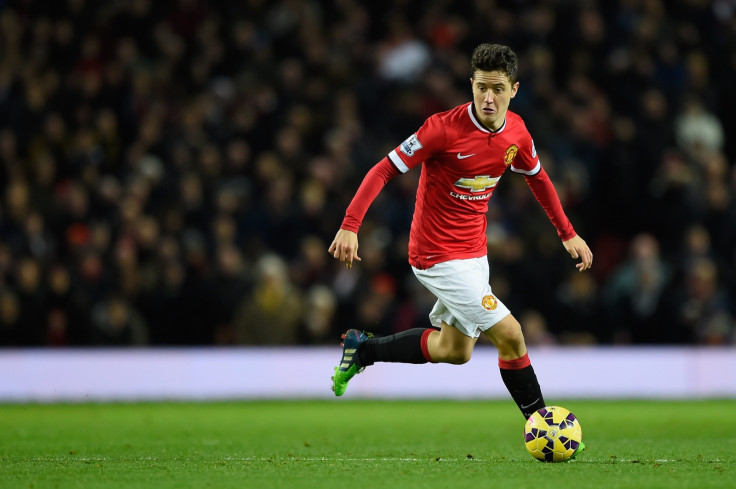 Manchester United summer signing Ander Herrera has claimed he would pick teammates Ander Lindegaard, Chris Smalling, Wayne Rooney and Juan Mata in his dream Old Trafford five-a-side team.
Herrera's decision to pick United's second-string keeper rather than his friend David De Gea, and his exclusion of stars like Angel Di Maria and Radamel Falcao, may seem surprising. However the Basque midfielder has a convincing explanation.
When asked by Manchester United's official website who would make his five-a-side-selection, Herrera said: "Anders [Lindegaard], because I want to score against David [De Gea]!"
"I'd pick Rooney because he's always very competitive and I always want to be alongside him.
"Smalling – he's aggressive and we need a defender! And Juan Mata, because we know each other very well."
Herrera and Mata have enjoyed a close relationship since winning the under-21 European Championships in 2011 alongside De Gea.
United captain Rooney recently picked Di Maria, Falcao, Mata and Robin van Persie in his dream five-a-side team, while the former Chelsea maestro named Rooney himself, van Persie, Falcao and Di Maria.
When asked who is most the competitive United player in training, Herrera didn't hesitate: "Wazza. Wayne Rooney, always."
Meanwhile, the Spanish midfielder has claimed he is enjoying his life at Old Trafford, particularly Louis van Gaal's training sessions which are heavily focused on ball posession.
"I enjoy the sessions the day before a game because we work on ball possession, shooting and set-plays – it's a good day," he said.
"All the mini-matches are important because the coaches are always looking at us before each game. We have a very competitive squad – we always want to win in matches or training. I think this is the right tactic because you play like you train."