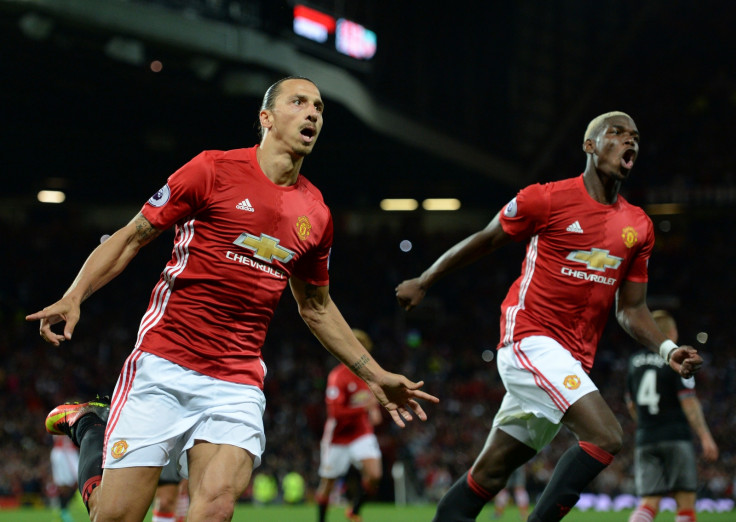 Manchester United striker Zlatan Ibrahimovic has backed Jose Mourinho to make Paul Pogba a "complete" player. The 23-year-old Frenchman rejoined United earlier this summer and Ibrahimovic thinks Mourinho is the perfect coach to ensure Pogba fulfils his potential.
Ibrahimovic, 34, previously worked with Mourinho during his time at Inter Milan and has backed the Portuguese to thrive at Old Trafford. The Swede also thinks his new teammate has the ability to become an even better player in the coming years.
"He is a big player and I know under Mourinho he can become complete," Ibrahimovic said, according to the Daily Telegraph.
Speaking ahead of the much-discussed Manchester derby on Saturday (10 September), Ibrahimovic has hailed United's new boss as a managerial genius. "Mourinho is a mastermind," said the record-breaking forward, who followed the coach to United over the summer.
"I do not have many regrets but I did regret that I did not get to play under Mourinho for longer [at Inter Milan]. When the opportunity came again for him to be my coach at United, it was an easy decision. He knows everything about the game, who would not want to be coached by him?"
Ibrahimovic also said he can see strong similarities between his own personality and that of Mourinho. "He is a winner. I see myself as a winner also. I like to win also. I'll do everything to win," the United striker explained. "He's direct with everyone. He's not a coach that goes behind your back. He will tell you: 'If you're not good enough, you're not good enough'."
On the other hand, Ibrahimovic claimed not to be interested in Pep Guardiola, the Manchester City manager who coached him for a season at Barcelona in 2009-10. "I think a lot of things have happened from that time (at Barcelona with Guardiola) so how he works today I don't know – but I could not care less because he's not my coach," he said.