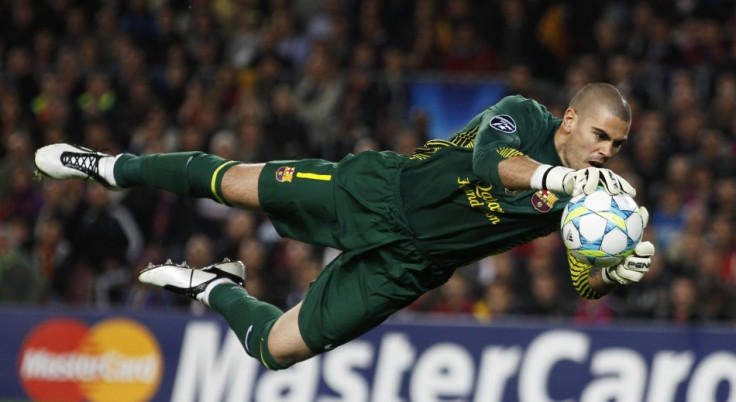 Manchester United's attempts to secure goalkeeper Victor Valdes on a permanent basis could have competition after reports in Mexico claimed local team Queretaro have joined the race for his services.
Spanish newspaper Marca recently claimed the former Barcelona keeper urged United to offer him a deal at Old Trafford after resolving a contract dispute with Monaco that had prevented him from signing for another club.
The 32-year-old Spain international has been training at United's Carrington training ground since October in order to complete the rehabilitation from an anterior cruciate ligament injury he sustained in his right knee in March.
After his contract at Barcelona expired at the end of the previous campaign, Van Gaal recently suggested that once free agent Valdes was ready to return to action, United would consider offering him a permanent contract.
"United always has their eyes open," Van Gaal said.
And after Valdes' agent, Gines Carvajal, claimed the former Barcelona star was close in his return to full fitness last week, it looked like the keeper was set to become David De Gea's back-up at Old Trafford.
However, Mexican TV station Televisa reports that United face now a challenge from Queretaro for the goalkeeper.
The Mexican outfit signed Valdes' former Barcelona teammate Ronaldinho in September and are in the market to make another marquee signing, with the Spanish keeper in mind.
According to reports from Mexico, Queretaro officials have travelled to Europe in recent days in order to meet with Valdes' agent to make him a lucrative proposal.
But Catalan-based newspaper Mundo Deportivo suggests Valdes' first choice would be to join United to replace Anders Lindegaard, who may leave the team in January.
However, with De Gea unmovable in Van Gaal's side, the Spaniard may consider to moving to Queretaro instead to play alongside Ronaldinho.