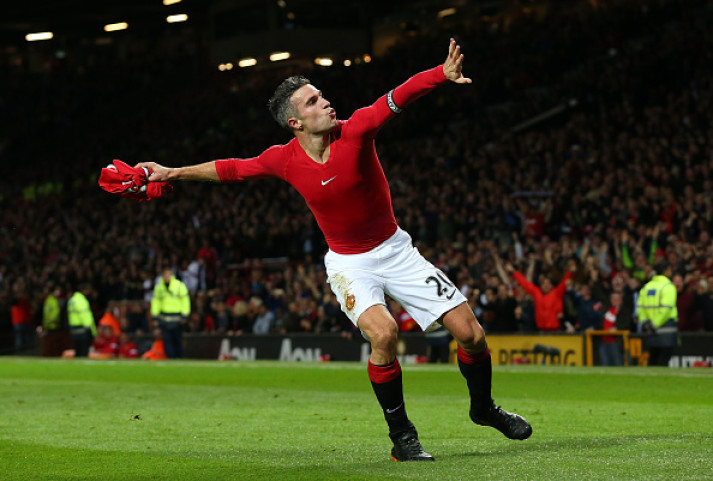 Manchester United striker Robin van Persie has claimed Louis van Gaal's side are ready to extend their good run in the next Premier League game against Liverpool on Sunday (14 December) following their 2-1 victory over Southampton on Monday 8 December
After a difficult start to the campaign, United have secured five back-to-back victories – against Crystal Palace, Arsenal, Hull, Stoke and Ronald Koeman's side – to climb to third place in the Premier League table, leaving them eight points behind leaders Chelsea and five off Manchester City.
But even though Van Gaal has admitted United are not expected to fight for the league title this season, Van Persie is optimistic about the future and confident on keeping the momentum going against bitter rivals Liverpool.
"The next game is Liverpool so we're looking forward to that. We are really happy that we are on the way up now. We have to keep the momentum going," Van Persie said to Manchester United's official website.
The Dutch striker was crucial in the victory over Southampton, scoring United's two goals to lead his side to the victory, despite an unconvincing performance.
Having had a difficult start to the season due to fitness concerns, Van Persie believes he is closing in on his peak form and predicts the best from him is yet to come.
He said: "I've been feeling very well over the last couple of weeks. Physically, I can make my runs over and over again. I had a feeling that it was coming.
"Last week, I was thinking against Stoke that I had a really good feeling; I was feeling fit. Although I had a good feeling, not everything came together in that game.
"Today [on Monday], overall, we can be happy and I can be happy as well. I can play 90 minutes easy and every time it gets easier – tonight as well. I could keep going in the last minutes and that's what you want. Then the goals, assists and wins will come. I just have to keep it going and play more."
The striker admitted United were lucky to secure three points but claimed they proved once again to have a fantastic spirit.
He said: "In these games, it is a quality to bring it [the victory] over the line. After my second goal, we still had to play 25 minutes against a very good side. You know they [Southampton] will get chances because they're a good team, but we did well. We had a fantastic 'keeper, a great back four – or five – today and I think we did ever so well."