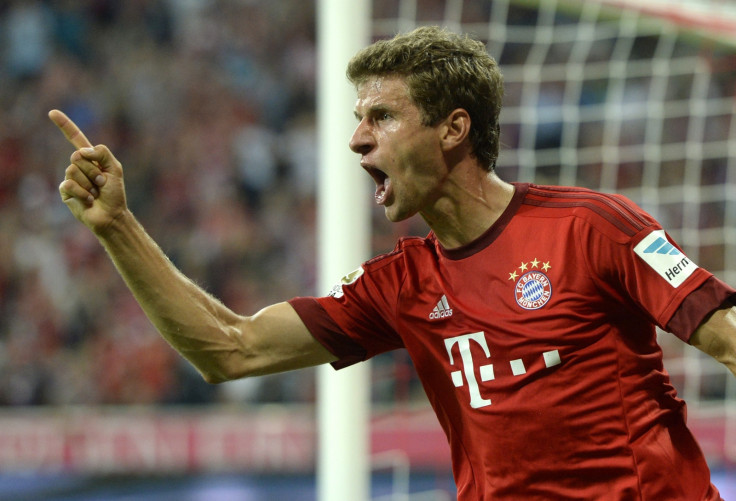 Bayern Munich forward, Thomas Muller, has ended rumours linking him with a move to Manchester United, stating that a move to the Premier League is not up for discussion. Louis van Gaal gave Muller his first break at Bayern. The 26-year-old has grown from strength to strength since that period and had won the World Cup and the Champions League, with the Bundesliga winners.
Bayern president Karl-Heinz Rummenigge had joked that United's director of football Ed Woodward has been asked to not send mails over a prospective transfer for Muller, with the Red Devils reportedly having made a sizeable bid for the German last summer. German publication Bild reported that United had gone with a €100m (£70m, $111m) bid for the player, which was immediately rejected by Bayern.
Speaking about Rummenigge's comment, Muller said, "That was well said. I had to laugh about that. It was good," and on moving to United, he claimed, "The club, as Rummenigge showed, denied it straight away, so it's not up for discussion."
Muller had also fuelled rumours by stating that the wages players receive in the Premier League are very tempting, but clarified his comments on any prospective move away from Bayern in the near future. Muller would earn closer to the highest earning member in the squad, which would be a considerable increase from his current deal with Bayern.
"I was asked a question about money. So I just said we're professionals and for us it's about earning money and living our lives. The fans always have the idea about the romantic side and your love for the club. On the other hand, football is a business and things happen very quickly. One day a director says this coach is staying, then he's sacked three weeks later. You can't forget it is a business and not just playing football for a hobby. That was what I was trying to say," Muller said.
The German forward is currently travelling with Bayern to face Arsenal at the Emirates on 20 October, in what is a must win game for the north London club. A win here for the Gunners will open up the group and make a contest for a place in the knockout stages.