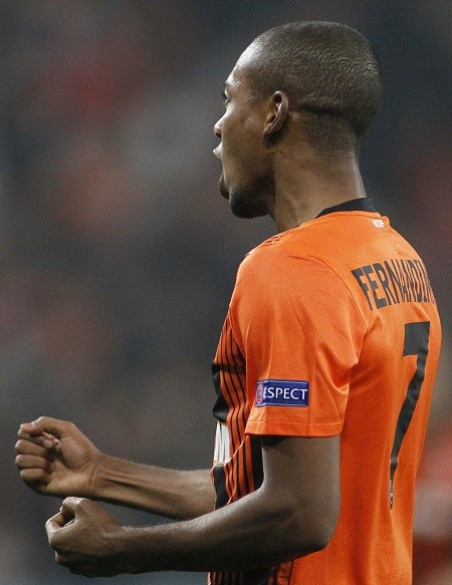 Shakhtar Donetsk midfielder Fernandinho has revealed he will move to Manchester in the January transfer window, but has yet to confirm whether he will join City or United.
"I am closing a deal with an English club. I will play in Manchester in January,' the 27-year-old told Calciomercato as mentioned in The Metro.
Fernandinho is a defensive midfielder with box-to-box style of play. The former Atletico Paranaense star has been crucial for Shakhtar this season, and helped the Ukrainian club overcome Chelsea to reach the knockout stages of the Champions League.
It is thought that the Brazilian star is more likely to join United than their cross-town rivals City, given that Blues boss Roberto Mancini signed a new defensive midfielder, Javi Garcia, just three months ago.
However Fernandinho would be ineligible for United when the club return to Champions League action in February, given he has already appeared in the competition for Shakhtar, and this could be a major drawback for Sir Alex Ferguson.
Rafael Wants United To Improve Defence Against City
Meanwhile, United defender Rafael da Silva has urged his fellow team mates to put an end to their poor run of defending against City at the Etihad in order to avoid last season's 6-1 humiliation defeat at Old Trafford.
"If we defend like we have done in some games we will be in real trouble against a team like City. That's 100% sure. I don't know why we have had problems defending this season. If we work hard in training I'm sure we can learn to defend better," Rafael said, adding:
"In the Premier League Manchester City are doing very well - they just seem to keep going and going. But we just need to concentrate on ourselves. It is a big game for us and we need to play at our best level."