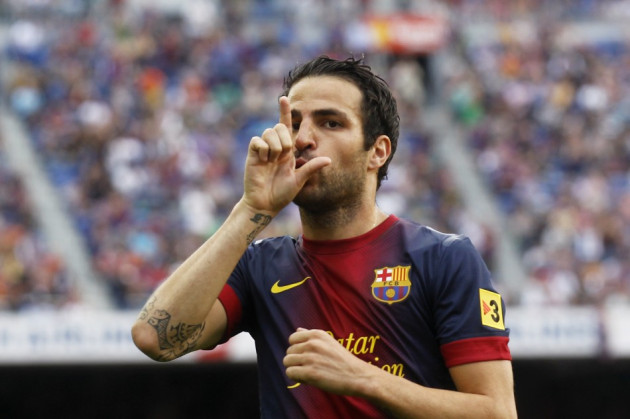 Harry Redknapp believes that Cesc Fabregas is the perfect fit for Manchester United and can fill a possible hole left in the squad if Wayne Rooney does depart before deadline day.
United confirmed today that an improved bid has been placed for Fabregas with hope of prizing the midfielder away from Barcelona, although many have predicted that the Catalan giants will want to hold onto their star after losing Thiago Alcantara to Bayern Munich as they face uncertainty as they search for a new manager.
Fabregas himself has been conspicuously quiet since the reports of a United bid resurfaced and the club appear to be confident they will get a return in their highly publicised bid but David Moyes has admitted he can't wait much longer before the side pursue other targets.
Redknapp believes that signing Fabregas would be a brilliant stroke of genius for the manager if he can convince the Spain international to return to England for a second spell.
"A lot of people have wondered if signing Fabregas would have any effect on keeping Wayne Rooney at Old Trafford but I don't see any link there," he told the Sun.
"There may be that there is no way back for Rooney and the club now. This could well explain why United are making such a big play for Fabregas.
"They are desperately short in that area of the pitch - and losing Rooney would leave a big hole for United to fill. Fabregas is a big name - and he could fill it."
United are believed to be offering Fabregas double his current wage should he make the move, which could certainly tempt the 26 year old into making a shock return to England.
Arsenal still have first refusal on any deal which involves the midfielder making a move, but Arsene Wenger has said he believes that Fabregas will stay at Barcelona for another season.