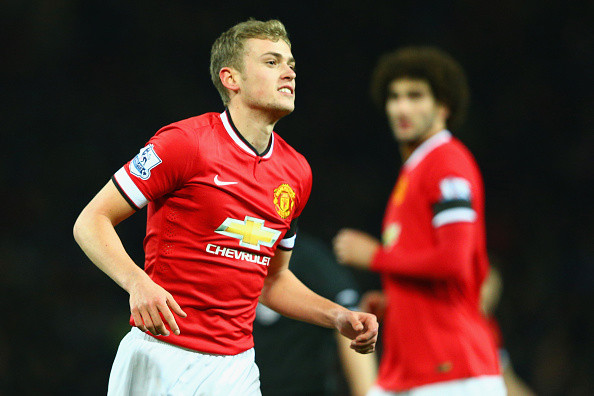 Manchester United manager Louis van Gaal has hailed the decision to send James Wilson on loan to Brighton and Hove Albion for the remainder of the campaign after the 19-year-old striker struggled to get playing time during the first part of the season. The Dutch boss is aware the transfer could be a risk due to the shortage of attacking options at United but believes the academy starlet should play first-team football.
Questioned about the decision in the press conference ahead of the game against Leicester City, Van Gaal said: "Until now he didn't contribute so much."
"He played a few minutes in the Premier League and a few in the Capital One Cup and was not always in the selection of the squad of 18 players. Players of his age need to play and I can imagine that fans are saying that this is ridiculous, they have difficulties to score, but that is a short-term thought," he said. "We have to think what is better for a player like Wilson and at the moment he does not have too many possibilities to play on a higher level. We believe in him so he has to develop himself elsewhere. If we need him, we can call him back."
"I have not always chosen him in the selection, and I think for him it's better to play at his age than sit on the bench or play in the second squad. In the short term, maybe it's not so good for Manchester United, but in the long term it's better. It is part of the development of a player."
Wilson was expected to leave Old Trafford on loan to a Championship side in September after the Dutch manager claimed he could not assure the striker enough playing time following the arrival of Anthony Martial. But after Wayne Rooney suffered an injury earlier in the season, Van Gaal was forced to postponed his plans due to the busy fixtures and the shortage of options for the number nine role.
Nevertheless, following the departures of Robin van Persie, Radamel Falcao and Javier Hernandez during the summer, the Dutch manager only has two proven strikers in his ranks, in Rooney and Martial.
Earlier in the campaign, Wilson, who has only made two appearances for the club this season, committed his long-term future to Old Trafford with a new deal until summer 2019. The United manager described him as "one of the brightest young English prospects with a keen eye for goal".