Real Madrid Offered Champions League Finalist As United Interest Cools – Report
Real Madrid have been offered Robert Lewandowski, according to reports in Spain, with Jurgen Klopp desperate to keep the striker away from Bayern Munich
Manchester United's interest in purchasing Robert Lewandowski appears to have cooled, with the striker reportedly being offered to Real Madrid as Jurgen Klopp looks to avoid the Borussia Dortmund star going to his side's biggest rivals.
Sir Alex Ferguson revealed last month that the club were interested in Lewandowski, who is moving into the final 12 months of his deal at Dortmund, but said Bayern Munich were also interested in the Poland international.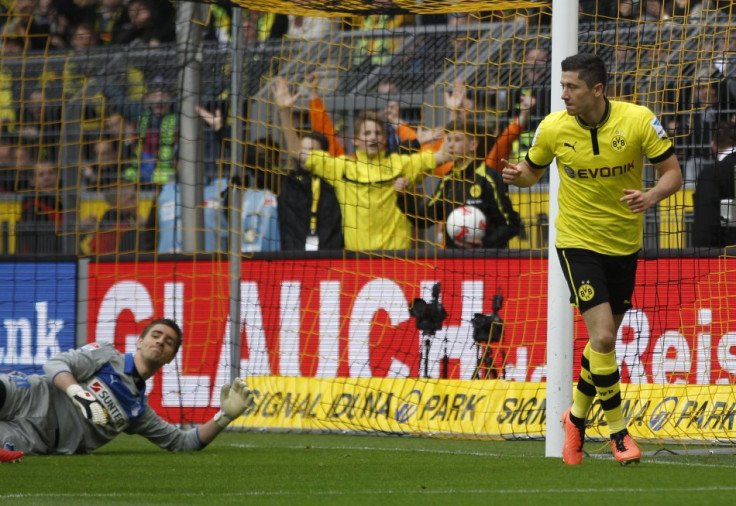 Dortmund have already lost Mario Gotze to Bayern for next season, with the playmaker set to join the side that stole back the title from Klopp's men this campaign. And losing Lewandowski to the side as well might prove to be too difficult for the manager who claimed today that the Bavarian giants are like the James Bond villain of football.
But with the changeover in manager at United comes a change in transfer targets, and while Ferguson admitted to being a huge fan of Lewandowski, who has scored 34 goals in 43 appearances for his club this season, David Moyes may not feel the same about the star.
And with interest from the English title winners now unclear for the time being at least, Spanish publication Cadener Ser claims that Dortmund have offered Lewandowski to Real Madrid in the hope of assuring that if he leaves the club, he doesn't stay in Germany, and will only compete against his old side in the possibility of another Champions League tie.
Lewandowski would be an asset to any side, and although Madrid are now without a manager as of the last game of the season, the side are seeking to shore up transfer targets as quickly as possible to offer the incoming gaffer a top side to work with.
The Spanish news source also insists that while the club have been sounding out the possibility of bringing Carlo Ancelotti on board, and have made him aware that they would be interested in taking on Lewandowski.
But the side do face a challenge in luring the striker away from a potential move to Bayern, with Pep Guardiola set to join the Bundesliga title holders in the summer and promising to continue a wave of success which the club has recently enjoyed.
© Copyright IBTimes 2023. All rights reserved.