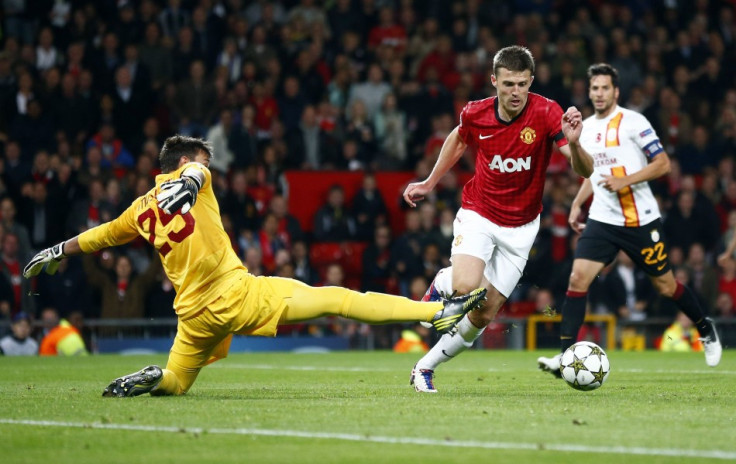 Turkish champions Galatasaray claim Manchester United have made enquiries about two of their players, following the Red Devils' 1-0 win at Old Trafford. The two clubs played each other in a Champions League group stage game that saw midfielder Michael Carrick's seventh minute scrambled goal give Sir Alex Ferguson his 100th win in Europe's elite club competition.
A Goal.com report now indicates Galatasaray vice-president Ali Durust referring to interest from Ferguson in signing defender Semih Kaya and goalkeeper Fernando Muslera. Kaya, a 21 year old graduate of the Turkish club's academy, played a key role in the club's title-winning season last year and has already represented his country six times. Muslera, meanwhile, is a Uruguayan international who signed for Gala last summer, from Italian club Lazio. He has made 38 appearances for the national side and is considered their first choice keeper.
However, although he revealed United's interest in the players, Durust was quick to stress the club would not consider selling them.
"Semih came from our youth academy. He is a valuable member of our squad. We didn't set an asking price for him. He is indispensable at that moment. Muslera has the same value too. Both of them are in our future plans. We never want to sell them," Durust told reporters after the United game.
Unfortunately for Durust, Muslera has admitted he would jump at the chance to play in England, calling it a childhood dream. However, he did stress he would remain focused on his present club's fortunes at the moment.
A Third Keeper?
Ferguson has been actively chasing defensive reinforcements at Old Trafford and given the alarming injury crisis that has beset the club in recent weeks, it is an understandable state of affairs. In addition, neither Rio Ferdinand nor Nemanja Vidic or Patrice Evra are getting any younger (Ferdinand is 33, Vidic is 30 and Evra is 31) and although there is talent in those positions - Phil Jones, Chris Smalling and Rafael - the run of injuries has exposed a weakness. Nothing, of course, can be done about the crisis now but if reinforcements are made available in January or succession planning made for next season, it could be a very astute move on the Scot's part. United were earlier linked to Angelo Ogbonna, a 24 year old Italian defender playing for Serie A club Torino but a reported price tag in excess of £16m may have caused the club to rethink the approach.
Why a goalkeeper though?
United already have two young shot-stoppers, each with considerable potential, in Spain's David de Gea and Denmark's Anders Lindegaard, both of whom are now in a straight fight to become the club's No 1, after a period in which the former Atletico Madrid keeper seemed set to claim the spot. Both keepers have had first team chances this season and Ferguson explained his rotation policy as a means of handing both his youngsters first team experience.
That could be why there is rumoured interest in Muslera.
The Buenos Aires-born keeper is a full-fledged senior member of his national team and played for Rome club Lazio for four years, the last two of which were as the club's first choice keeper. He has represented his country in the World Cup in 2010 (and kept clean sheets in the group games) and the 2011 Copa America and is generally regarded as one of the top goal keepers around.
Muslera could be a more stable option for Ferugson, at least until one of either Lindegaard or de Gea can prove himself equal to the task of filling the boots of former United greats like Edwin van der Sar and Peter Schmeichel. The problem, though, is that United paid a reported fee of £17m for de Gea and Lindegaard signed a contract extension in August. Should they move for Muslera (and he does transfer), it is very likely one of either de Gea or Lindegaard will leave and that leaves us with an interesting debate to ponder over.
A move for Kaya, though, is a more credible suggestion. The 21 year old is reported as being a solid defender who is as comfortable tackling as he is playing the ball out of defence, not unlike a certain Gerard Pique the club lost to Barcelona.