Usain Bolt Chooses between Cristiano Ronaldo and Leo Messi
Jamaican sprinting icon Usain Bolt leaves London with three gold medals and a hand in one of the fiercest footballing debates in the world - who is the world's best footballer? Is it Real Madrid's Cristiano Ronaldo or Barcelona's Leo Messi?
Bolt, who has admitted he would love the chance to trial with Manchester United (Ronaldo's former happy hunting grounds), has put forward his view on the Ronaldo-Messi debate by claiming the Portuguese winger is the more potent of the two. The 25 year old world record holder, who has also been linked with a move to cricket and Australia's Twenty20 league, regards Ronaldo as being mentally stronger.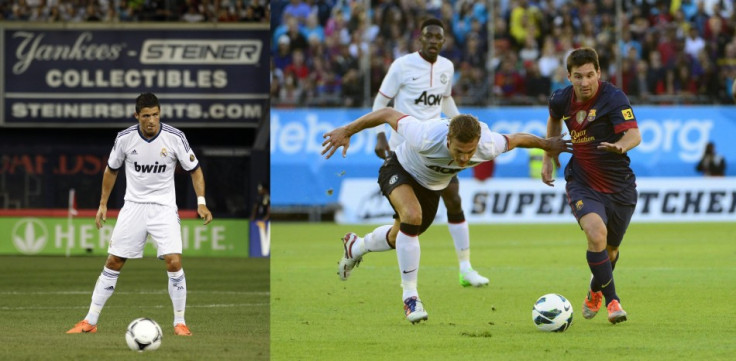 "No doubt Cristiano is better than Messi. He is a more complete player. I would give [the Ballon d'Or] to Cristiano. He has managed to stay on top and that's the most difficult thing," Bolt said.
Incidentally, Bolt has previously trained with Ronaldo, the object of the association being to help improve sprinting techniques and power; both of these are now hallmarks of Ronaldo's game.
"You see guys like Nani and Ashley Young who are so fast and skilful, but they get pushed off the ball like Ronaldo used to. Since I taught Ronaldo in 2009 he has gone on to score 40 goals a season, I don't think he would have scored them all without my training. United have so many players with pace that if they all perfect their sprinting technique it will be impossible to play against them," a clearly confident-in-his-abilities Bolt explained.
"People think I am joking. But if Alex Ferguson called me up and said, 'OK let's do this, come and have a trial', it would be impossible for me to say no. I would not take up the challenge if I didn't think I was good enough," the Jamaican said, adding, "I am a very accomplished player and know I could make a difference. I am in Britain for a few more days. If Alex Ferguson wants to give me a call he knows where I am. I definitely want to see what I could do. I think I could step up to the Rooneys."
© Copyright IBTimes 2023. All rights reserved.