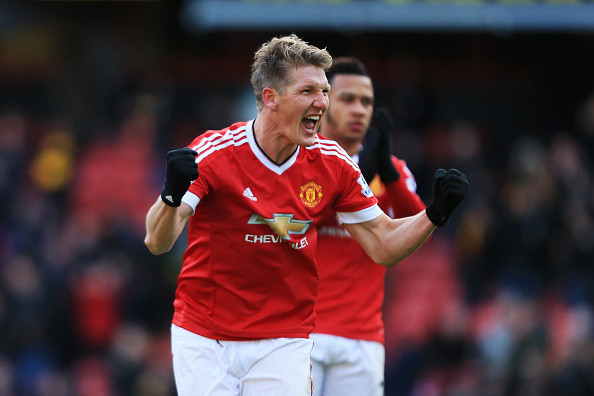 Manchester United boss Louis van Gaal has revealed Bastian Schweinsteiger is not ready for the crucial Europa League last-16 second leg against Liverpool, despite the Germany international seeing action after a long spell on the sidelines in the draw with West Ham United at the weekend.
The Dutchman also confirmed the game comes too soon for Ashley Young, Cameron Borthwick-Jackson and Antonio Valencia, who will remain out of the squad alongside long-term absentees Luke Shaw, Phil Jones, Will Keane and Wayne Rooney.
Schweinsteiger featured in the first leg at Anfield before before making another cameo in the FA Cup draw with the Hammers. However, after spending two months out, Van Gaal believes he lacks the match rhythm to play against the Merseysiders from the start, as Manchester United seek to overturn a 2-0 deficit.
"[Schweinsteiger] has played two times 10 or 15 minutes, maybe he can play 45 minutes or 30 minutes depending on the situation on the pitch," the boss said. "I cannot say in advance but I try to do that. His impact was very big in the game versus West Ham United and he was involved in the goal. But I have to cope with the fact when they're injured, you're not back at the moment they train one training session with you."
Marouane Fellaini may thus start in the middle of the park, after the Belgian escaped Uefa punishment over an incident in the previous game where he appeared to elbow Emre Can during second-half stoppage time.
"I cannot say if he plays tomorrow because then I give away a part of my line-up and I don't want to do that," the boss said. "But Fellaini has his way of playing and he can give us a lot of qualities. He has contributed to a lot of games in a very good way and for me it's very important, if he can contribute in the game plan that we have created with each other."
Van Gaal, nevertheless, refused to reveal whether the Belgium will be in his line-up after some fans booed at him during the game against the Hammers.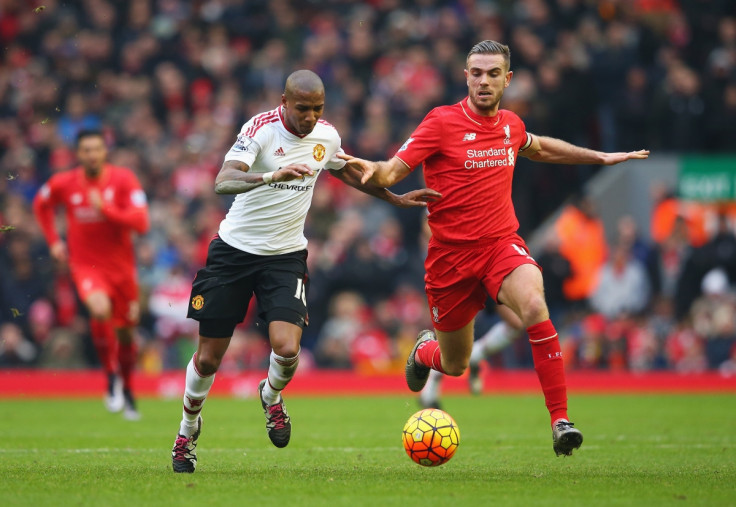 Young and Borthwick-Jackson, meanwhile, returned to training on 16 March. However, Van Gaal has confirmed that the pair, along with Antonio Valencia, will not make the squad for the Liverpool match. Young has been out since January and the academy product has not played since picking up an injury against Shrewsbury Town last month.
"They are training now with us but you have to build up more than one training session or two training sessions," van Gaal told MUTV. "For example, Young and Valencia are out for a few months so it is not so easy to come back and adapt to the rhythm of this level."
"Ashley Young has been two months away but Borthwick-Jackson is another case. He has been about three weeks away so that is different," van Gaal added later in the press conference, suggesting that the return of the latter is closer.
"For every player, it is difficult after an injury to come back in the team. I always use the example of Marcos Rojo, who was the exception because I didn't have other full-backs so I forced him to build up his capacity in the first team. He struggled, as you have seen, and I have given him 10 minutes, 20 minutes, 50 minutes, 70 minutes and then, at the end, 90 minutes, but he is now very tired, yet maybe he has to play tomorrow. It is not easy for someone who has been out and maybe operated on, so it is also a big transition for these kind of players.
"It is the same thing with Luke Shaw and Wayne Rooney, when he is coming back, as he has already been for three weeks in a brace. You have to wait and see in the training sessions if he has that confidence to play a game or twenty minutes, and that is difficult."
The manager also expressed his optimism despite the 2-0 deficit, saying his boys can score four goals if they put their mind to it.
"We don't want to concede a goal. We are thinking only of making goals," said Van Gaal. "We have done that against Midtjylland in the last round. We don't want to concede, but if we do, we can score four."