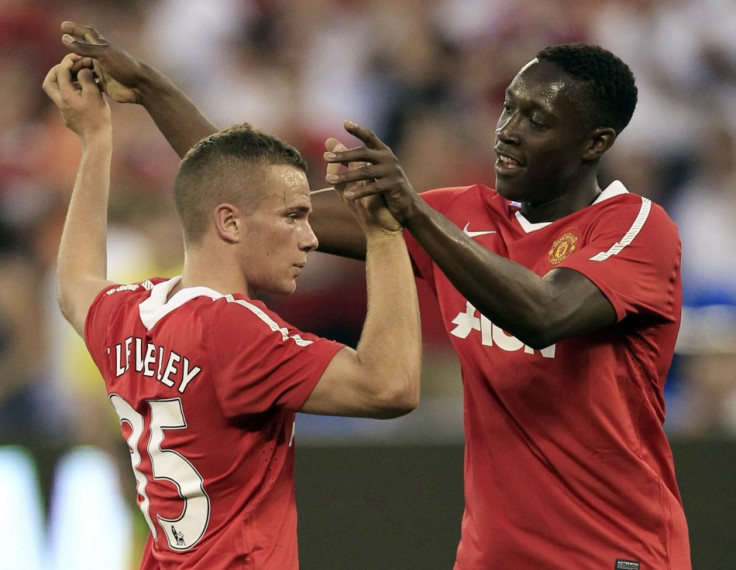 Danny Welbeck has backed his Manchester United and England colleague Tom Cleverley to become a world class player.
The 22-year-old's blistering start to the season was recently curtailed by injury, but the young midfielder is expected to make a return to first team action shortly after the international break.
Manchester United's lengthy pursuit of Wesley Sniejder during the summer suggested Cleverley may have to bide his time in order to impress his obvious skills on Sir Alex Ferguson's starting eleven, but the Red Devils' failure to land the Dutch playmaker has allowed the midfielder to blossom in the heart of United's midfield.
Cleverley was integral to United's flying start to the defence of their Premier League title this season, and the injury he sustained against Bolton Wanderers, courtesy of a typically robust challenge from Kevin Davies, coincided with their blip in form.
The player's gradual rise to prominence has been evidently aided by several loan spells, at Leicester City, Watford and most recently Wigan Athletic, and his teammate Danny Welbeck believes Cleverley's vision and ability to retain the ball sets him apart from other players.
"I think he can become a world-class player." Welbeck told The Sun.
"Football is such a simple game, it's how hard you make it for yourself. Tom keeps it so simple. It's difficult to do that when you're in centre-midfield, but Tom manages it.
"He gets the ball, passes it, moves into space and he's always there as an extra option every time you've got the ball.
"He's really good to play with. I enjoy playing with him so much and he's got the awareness, the vision and the ability to pick out a pass and actually produce a final pass as well.
"He's just going to carry on improving. You can see that every single day in training. He's a really good player.
"We are really good friends off the field and quite a few people come up to us and say that it shows on the field.
"We've been through the same training schedule growing up through the academy, the same coaches who have taught us the same things, so we're on the same wavelength and we know each other's games inside out."