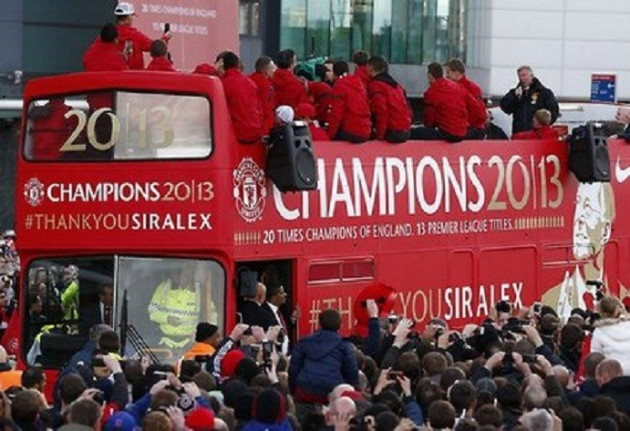 Manchester United fans turned the city in to sea of red flags during an open-top bus parade to celebrate the club's Premier League triumph and wave farewell to Sir Alex Ferguson.
Supporters on Twitter flocked to pay tribute on Manchester Utd's iconic manager, using the hashtag #thankyousiralex.
Man Utd defender Rio Ferdinand echoed the anticipation in the city when he took to the social networking site earlier today to tweet the message: "I can't wait for later when we can share this moment with our fans in Manchester."
Outgoing manager Sir Alex Ferguson took pride of place for the parade at end of his 26 year-long reign at the club.
It was a fitting send-off for the man who masterminded yet another a successful campaign - in which Utd turned the Premier League race in to something of a procession.
Tens of thousands of spectators who braved poor weather conditions to attend. Those at Old Trafford heard Sir Alex tell them how much being manager of the club meant to him.
Looking out on to a sea of red flags and banners festooned with images of his face, the Scot told the crowd he would "never forget" the emotional scenes during his final home game at Old Trafford, last weekend.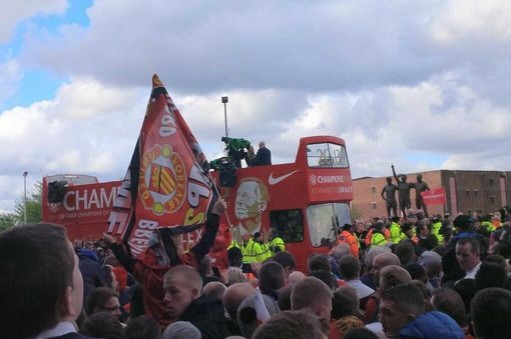 A bright red double decker bus set off late from Old Trafford, along a route including Chester Road, Bridgeater Way, Deansgate, Lloyd Street, before concluding at Albert Square and the city's Town Hall.
Earlier in the day, a group of players popped in to a local pub to toast their success and join in celebrations with fans.
On board the bus, the squad displayed the Premier League trophy and fans responded by repeatedly cheering "champions."
Also present was want-away striker Wayne Rooney, who has handed in a transfer request.
Fans voiced their opinion on his move by booing loudly Rooney's name when veteran Ferdinand seized the microphone and tried to begin a chant of 'Rooney.'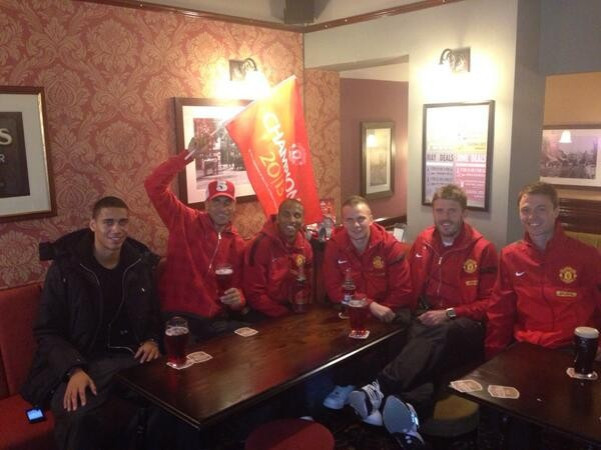 Hitman Robin Van Persie got a much better reception when he hoisted aloft the trophy, drawing cheers from the large crowd.
But firmly at the centre of the parade has been Sir Alex. The reaction today of fans shall have underlined to incoming manager David Moyes what a big act he has to follow.