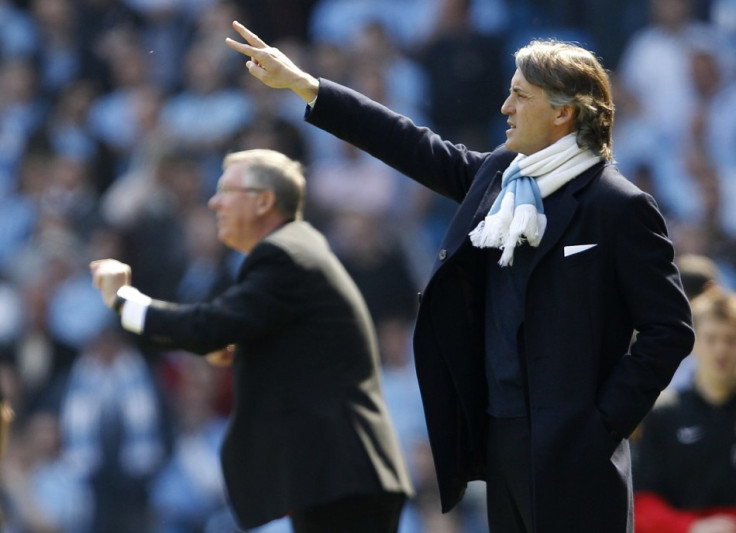 Roberto Mancini believes his side are becoming as unpopular in England as their bitter Premier League rivals Manchester United.
Manchester United have been the scorn of opposing fans since the inception of the Premier League because of their unprecedented levels of success, and Mancini believes his richly assembled Manchester City squad are beginning to earn similar abhorrence from their rivals.
City currently lead the Premier League by five points over their nearest rivals Manchester United but rather than complain about their perceived unpopularity, Mancini has encouraged his side to revel in their newly found status in the same way Sir Alex Ferguson's side do.
"Every team that wins things doesn't get sympathy," Mancini told skysports.com. "Do (Manchester) United get sympathy from other teams?
"No, because (Manchester)United win always.
"When Arsenal won leagues and cups was there sympathy? No. Because every team knows that when they win they do not get sympathy.
"I hope we don't get sympathy for the next games either."
Although Manchester City are well placed in the Premier League, Mancini believes the real test of their title credentials will come in the new year.
Mancini added: "The season is hard now. We have two months, December and January, that I think will be crucial months because we play tough games and we play every three days.
"I think that, after January, we can start talking about whether we can win something or not."
Manchester City host Norwich, while Manchester United travel to Aston Villa in this weekend's Premier League fixtures.