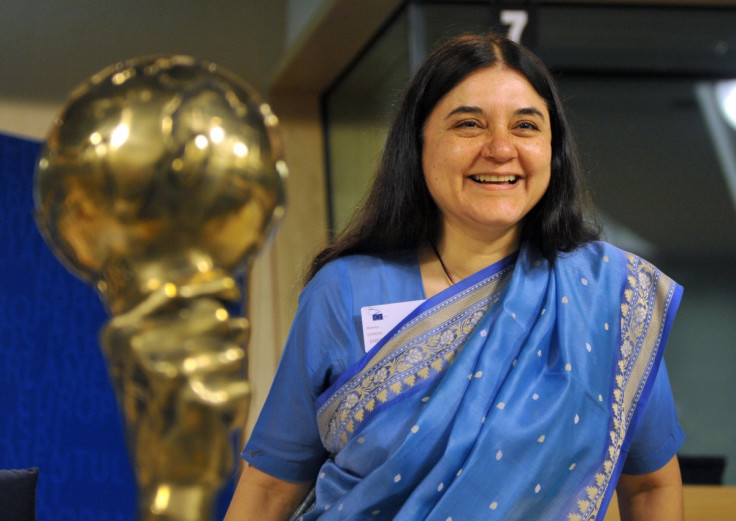 India's Minister for Women Maneka Gandhi has sparked a furious backlash after telling parliament that India was apparently not ready to end marital rape.
Speaking hours after the world had celebrated International Women's Day, the Cabinet minister said the government remains unconvinced about criminalising the practice due to issues of poverty, illiteracy and religion.
In 2015, CNN International reported that 94% of rapes in India are committed by perpetrators known to the victims and calls to criminalise marital rape in India has been an ongoing debate for some time.
The country's most recent law from 2013 states that: "Sexual intercourse or sexual acts by a man with his own wife, the wife not being under fifteen years of age, is not rape." The statute remains in place despite research which states that the number of women sexually assaulted by their husbands is 40 times higher than those attacked by people they don't know.
IBTimes UK takes a look at Gandhi and why she doesn't think martial rape laws cannot be applied to India.
Who is Maneka Gandhi?
Gandhi is India's Minister for Women and Child Development under Prime Minister Narendra Modi's Bharatiya Janata Party (BJP). She entered office when Modi was elected in May 2014.
She is the widow of Indian politician Sanjay Gandhi, son of India's Prime Minister at the time, Indira Gandhi. The marriage installed her into India's infamous Nehru-Gandhi family, a family that has always ruled India's current opposition Congress Party.
Prior to her latest appointment, Gandhi held a number of positions across four governments. She has been the Union Minister of State for the Environment and Forests, Union Minister of State for Social Justice and Empowerment, and has been appointed additional charges of Animal Care.
Gandhi has won a number of awards for her work with the environment and animal rights. She also won a Woman of the Year award from the International Women's Association in Chennai in 2001.
What did she say about marital rape in India?
On 10 March Maneka Gandhi said India was not ready to see the end of marital rape in response to a question on whether the government plans to criminalise the practice, the Indian Express reported.
In a written reply in Indian Parliament's Upper House, Gandhi said: "It is considered that the concept of marital rape, as understood internationally, cannot be suitably applied in the Indian context due to various factors like level of education/illiteracy, poverty, myriad social customs and values, religious beliefs, mindset of the society to treat the marriage as a sacrament, etc."
How did Twitter respond?
Thousands of people, who took to Twitter were outraged, while others condemned her for reinforcing India's patriarchal society.