We must become more resilient to extreme weather events if we are to avoid widespread devastation from floods, droughts and heatwaves, the Royal Society has warned.
The report titled 'Resilience to Extreme Weather' provides global maps showing predicted change in exposure to these "significant and increasing" events between 2010 and 2090.
Researchers looked at the combined impact of climate and demographic changes across the world, highlighting the areas where there is greatest risk and vulnerability.
For example, changes in temperature and humidity will significantly reduce the ability to work outdoors across most of Africa, Asia, and parts of North, South and Central America, affecting rural communities and food production amid a growing population.
Findings showed that over-65s are most at risk of heatwaves, with estimates suggesting we will see three times as many events of this kind by the end of the century. With an ageing population, the Royal Society suggests the number of "heatwave exposure events" among pensioners will increase tenfold.
Researchers say governments working on all levels, from local to international, must make society more resilient to these changes.
Georgina Mace, Chair of the working group for the report, said: "We are not resilient to the extremes of weather that we experience now and many people are already extremely vulnerable. If we continue on our current trajectory the problem is likely to get much worse as our climate and population change. By acting now, we can reduce the serious risks to our children and grandchildren.
"National governments have a responsibility to do everything in their ability to protect their people from the devastation caused by extreme weather events."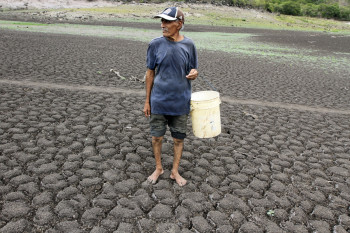 The report says world leaders must address extreme weather and its impact as part of international agreements set to take place next year.
Engineered options such as dams, sea walls and wells are most effective at reducing hazards, but there are downsides, such as cost and "if they fail they fail cataclysmically".
Instead, the scientists recommend a combined ecosystem-based approach, such as floodplain re-establishment and vegetation planting, which offers wider benefits as well as hazard protection.
Nancy Grimm, of Arizona State University, who worked on the report, said: "We need to make sure that large-scale engineering isn't making us too complacent. In the developed world we have been heavily reliant on some key large-scale engineering projects, which have been pushed to their limits during recent events.
"By using a combination of engineering and more natural approaches we can accept occasional small 'failures' while limiting the detrimental impact of a large, catastrophic event. We call this a safe-to-fail approach."