The number of people dying from hot weather will soar by over 250% within the next 40 years, experts have said.
Deaths will be a direct result of climate change and population growth, researchers at the London School of Hygiene and Tropical Medicine and Public Health England have found.
The number of people dying from the hot weather in England and Wales will increase by 257% by 2050, according to the research - published in the Journal of Epidemiology and Community Health.
Areas at highest risk are the south and the Midlands, with people aged over 75 also in greater danger.
Last year around 750 people were killed in England alone during a nine-day heatwave that hit the UK.
Researchers looked at historic fluctuations in weather and death rates to look at the association between temperature and mortality. They then applied these changes to global warming models and population increases to estimate the future number of deaths.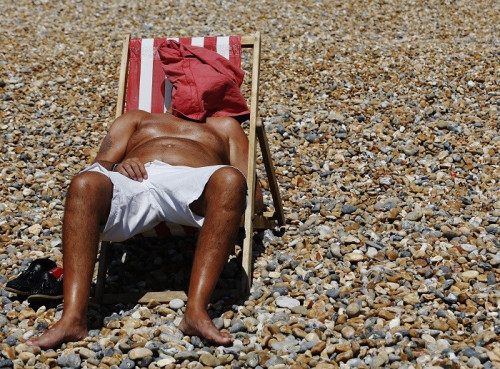 Calculations were based on projected average temperatures between 2000-09, 2020-29, 2050-59 and 2080-89, derived from the British Atmospheric Data Centre, and ONS population estimates.
Hot weather days are expected to triple by the mid-2080s. The number of cold days are expected to fall, but not at such a fast pace.
Death rates increase by two percent for every 1C temperature rise above the heat threshold.
People aged over 85 are at highest risk of death in the heat. Given the world's ageing population, this will account for a large number of the deaths.
The authors also note that these changes will likely worsen. They say sustainable options must be investigated, such as thermal insulation, choice of construction materials and design processes in urban developments.
"As the contribution of population growth and aging on future temperature related health burdens will be large, the health protection of the elderly will be important," they wrote.