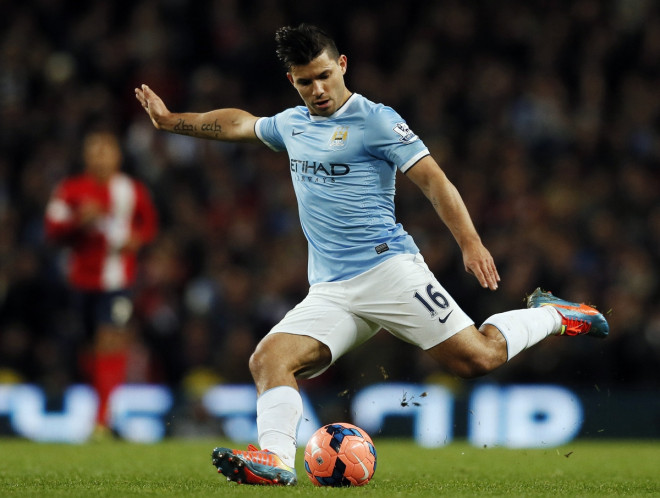 Manchester City manager Manuel Pellegrini has expressed his joy at being able to call upon the services of Sergio Aguero for his team's crucial Premier League fixture against Liverpool on Sunday.
The Argentinean international spent the last month on the sidelines with a hamstring injury, his third injury setback of the campaign. Aguero returned to full training this week, giving the former Real Madrid manager a much-needed boost in the remaining fixtures.
The 25-year-old is City's top scorer in all competitions with 30 goals this season, 15 of them in the league.
Brendan Rodgers' side have managed to keep only three clean sheets in the last 10 league matches and Pellegrini is hopeful that the attacking prowess of his star striker will increase his chances of coming away with all three points at Anfield.
"Sergio is OK. He worked all week with the squad normally, so he doesn't have any problem. It's very important [to have Aguero back]. He's a top player," Pellegrini explained.
"It's very difficult for their defence to stop him and so it's very important for us. It's a very big game, it's the team who are at the top of the table. Liverpool have had a great season, so this is an important game."
City currently sit third in the league table with 70 points from 31 matches. Leaders Liverpool and second-placed Chelsea have played 33 matches each and have 74 and 72 points respectively.
The outcome of the clash between the Reds and the Citizens has the potential to swing the title race in favour of any team in the top three.
Pellegrini said that the result at Anfield will only give either team a better chance at winning the title and not make them winners of the competition this weekend.
"But I don't think it will decide the title. Of course the team that wins this game has more of a chance to win the title but if you think this is the finish of the Premier League, I think it is a mistake," Pellegrini added.
"Every game is a big game now until the end of the season. The biggest game is every week for me. It's important but if we beat Liverpool and lose against Sunderland and West Brom we are not going to win the title," the 60-year-old Chilean said.