After battering the Caribbean and Cuba, the hurricane, which weakened from a Category 5 storm to Category 4, is scheduled to hit Florida over the weekend and is expected to reach as far north as Georgia.
Approximately 5.6 million of Floridians, which account for 25% of the state's population, have been told to leave their homes and some of Florida's motorways came to a standstill as people looked to move away from coastal areas.
"We are running out of time," Florida Governor Rick Scott told reporters.
"If you are in an evacuation zone, you need to go now. If you are planning to leave and do not leave tonight, you will have to ride out this extremely dangerous storm at your own risk.
"Remember, we can rebuild your home, we can't rebuild your life."
Palm Beach County will impose a curfew at 3pm local time (8pm BST) on Saturday (9 September) ahead of the hurricane's arrival.
Meanwhile in Georgia, 540,000 people on the coast received mandatory evacuation orders.
The hurricane, which according to the US National Hurricane Center had maximum sustained winds of 257km/h (160mph) at 3am GMT on Saturday (9 September), has left a trail of destruction in the Caribbean, where at least 23 people have been confirmed dead.
Riding out the storm
However, a number of Floridians have decided to ignore the evacuation order and will instead try and ride the storm out.
"Where am I going to go?" Miami Beach resident Kathleen Paca told Associated Press.
"It's not going to be that bad. I'm on the second floor and have impact windows. I've thrown coconuts at my windows and they don't break."
Michel Polette said he too was unlikely to live his house in South Beach.
"I have two choices, stay or run north, a bad idea," he said.
"If you drive to Atlanta or Tallahassee, you're risking running out of gas and being in your car in a Category 4 hurricane."
Palm Beach resident Norm King and his wife, Michelle, opted against evacuating because of the huge traffic on Florida's motorways.
"Traffic is slow or backed up on major highways from here in Palm Beach to Atlanta, Georgia, and the Carolinas from this view on Google maps traffic," he told the New York Post.
"I think I'll sit this one out."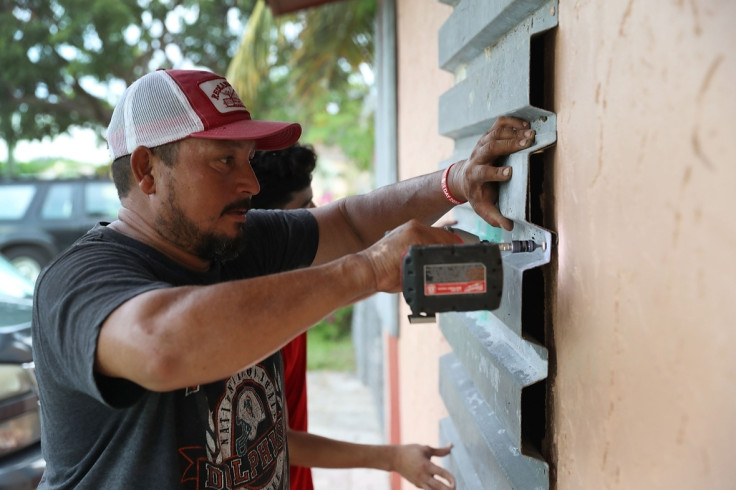 Harvey Shiffman, who lives in Parkland, a city just north of Fort Lauderdale, said he had decided to stay as his house was better equipped than the one in which him and his family survived hurricanes Andrew and Wilma in 1992 and 2005 respectively.
"It was a little stressful then," he explained. "In this house we are equipped with shutters and hurricane windows and doors. We have three large closets with concrete outer walls on the ground floor."
Some are forced to stay
Others simply have nowhere to go. Residents of the 54,000 mobile home parks scattered around South Florida are struggling to evacuate the area, as many of them do not have cars and are old and poor.
"I was here for Andrew, in this very park, and after Andrew, there was no park. You heard? No park," Bruce Groene, who lives in the Goldcoaster, a well-kept mobile home complex between Florida City and Homestead was quoted as saying by the Miami Herald.
"There's no point in putting shutters. During Andrew, I put the shutters and my house disappeared. It's a hopeless situation. This house is made out of sticks."