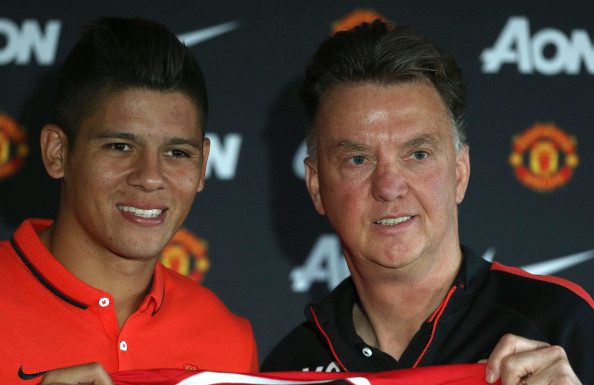 Marcos Rojo has revealed Juan Sebastian Veron was the "first one" to call him to offer his advice when the Argentina international decided to join Manchester United last summer.
The versatile defender played alongside the former United and Chelsea midfielder at Argentinian side Estudiantes before making the move to Europe to play for Sporting Lisbon in summer 2012.
Rojo has since kept a close relationship with Veron so didn't hesitate to ask him for his advice when Louis van Gaal's side approached him last summer to move to Old Trafford following his impressive World Cup campaign with Argentina.
"Yes, we always talk – at the moment he is the president of Estudiantes and he always sends a message or calls me. We're regularly in contact. When everything happened with United, he was the first one to call and offer his advice. He told me what I needed to do. Today I'm here and I would like to thank him," Rojo said to the club's official website.
"I always admired him. He was an idol for me, being in the national team and playing for big teams in Europe. Then to be able to share the pitch with him was a great experience. We won the Copa Libertadores, which was a dream come true before I came to Europe."
And even though Veron struggled to make the impact expected in the Premier League both during his two seasons at United – following his £28.1m ($42.5m) move from Lazio – and at Chelsea, it looks as though he gave good recommendations to his compatriot, as Rojo is managing to prove his worth that Old Trafford.
Rojo has claimed the fans are also helping him to adapt to the Premier League thanks to their full support since the very first day he arrived at the club.
Asked about how he feels to hear them shouting "Argentina! Argentina!", he said: "Very happy."
"Every time fans shout 'Argentina!' during games, it's incredible. Whether they do it for Angel [Di Maria] or for me, it's an immense support because it makes us want to give even more for the team, knowing supporters recognise us in this way.
"If that's the case, I think it's very good. The fans always show their affection when we arrive at the stadium, asking for pictures with love and respect. The fans here are incredible and help us adapt to the group. The noise they generate at every game is remarkable and this is very important. Personally, I love it."