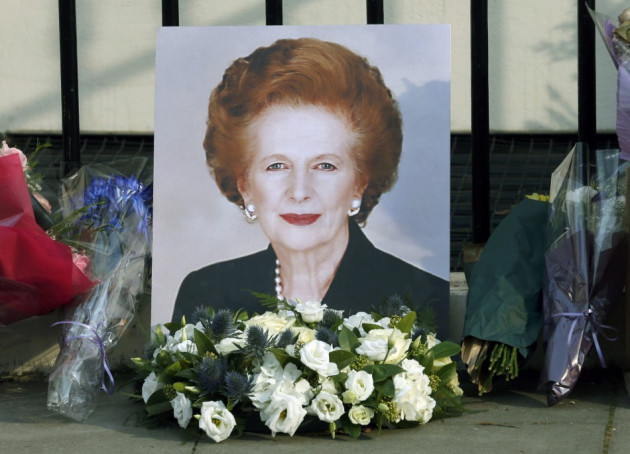 A day after the death of Baroness Thatcher at 87, tributes continue to flood in in from all parts of the world but critics are still pouring scorn on the controversial former British prime minister.
David Cameron, who once said in parliament, "I would rather be a child of Thatcher than a son of [Gordon] Brown" called the iconic leader "the greatest peacetime prime minister."
"We've lost a great leader, a great prime minister and a great Briton. The real thing about Margaret Thatcher is that she didn't just lead our country, she saved our country," said Cameron, who has cut short his EU trip to return to London.
Lady Thatcher, who became Britain's first female prime minister in 1979 and held office until 1990, died "peacefully" following a stroke.
The funeral ceremony with full military honours is expected to take place next week. She will not have a state funeral.
Tony Blair, former Labour prime minister who led Britain between 1997 and 2007, said: "Very few leaders get to change not only the political landscape of their country but of the world. Margaret was such a leader. Her global impact was vast."
US President Barack Obama led the tributes from across the world, describing the former Conservative prime minister as "one of the great champions of freedom and liberty."
Obama described Thatcher's role in empowering modern women: "As a grocer's daughter who rose to become Britain's first female prime minister, she stands as an example to our daughters that there is no glass ceiling that can't be shattered."
He went on: "As prime minister, she helped restore the confidence and pride that has always been the hallmark of Britain at its best. And as an unapologetic supporter of our transatlantic alliance, she knew that with strength and resolve we could win the cold war and extend freedom's promise."
Her critics, however, continue to question one of the most polarising figures of British public life and the "Thatcherism methods".
Criticising her neo-liberal economic policies which changed the political and economic landscape of Britain, the National Union of Mineworkers said on its website: "Margaret Hilda Thatcher is gone but the damage caused by her fatally flawed politics sadly lingers on."
While ex-Labour leader Lord Kinnock called her an "unmitigated disaster for Britain," a Belfast Catholic named Liam Porter told Reuters: "My first memory of her was she took the milk away from the school kids and then there was the hunger strike and the Falklands war. The first thing I thought when I heard it this morning was 'ding dong the witch is dead'."