Marussia F1 test driver Maria de Villota is no longer under sedation and is talking to her family, the team confirmed on 11 July.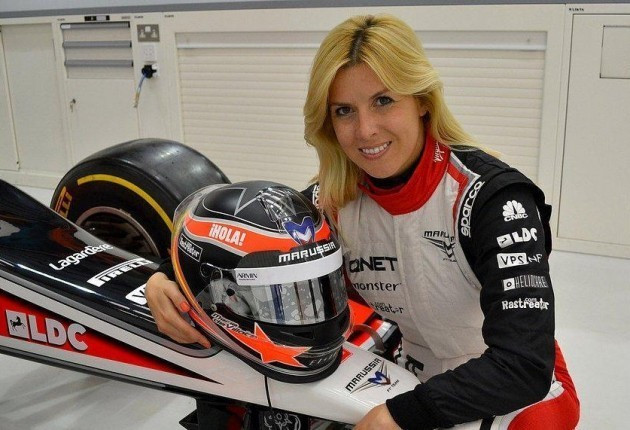 The team notes that, despite her injuries - which include the loss of her right eye - she has made a "remarkable" recovery.
Marussia has issued the following statement:
"It is not eight days since Maria de Villota's accident at Duxford Airfield in her debut test for the team.Despite severe injuries, Maria's recovery during that time has been remarkable.
"Following two successful surgical procedures in the days following the accident, last Saturday the medical team at Addenbrooke's Hospital began to gradually reduce the level of Maria's sedation.
"By Saturday morning, Maria was awake and able to speak to her family, which provided a very important - albeit early - indication that there were positive signs for Maria's recovery.
"Since that time, Maria has been making small but significant steps. She was moved out of the Neurological Critical care Unit on Monday [9 July] and is no longer receiving sedation.
"Her family remain by her side and she is communicating freely with them and the medical team. Medical assessments are ongoing to monitor Maria's improving condition.
"We have provided this update with the consent and support of the de Villota family who, whilst keen to ensure Maria's care remains the priority, are understanding and appreciative of the concern for her wellbeing."
The Spaniard, who was taking part in her first test for the Marussia team, is believed to have struck the lowered rear door of a truck helmet-first at between 20 and 30 mile per hour while returning to the pit area at Duxford during testing ahead of the British Grand Prix at Silverstone.
A former World Touring Car Championship and Superleague Formula driver, De Villota was due to use her first test session with the Marussia team to work on a major upgrade package ahead of the British Grand Prix, which was won by Mark Webber for Red Bull Racing on 8 July.
Despite de Villota's condition, the Marussia team opted to take part in the race at Silverstone, where Timo Glock finished 18th and teammate Charles Pic finished 19th.
Team principal John Booth said after the race: ""It has been a tough weekend for everyone in the team, but we can be pleased with the job we have done here at Silverstone and also encouraged by the positive signs we are seeing with Maria."