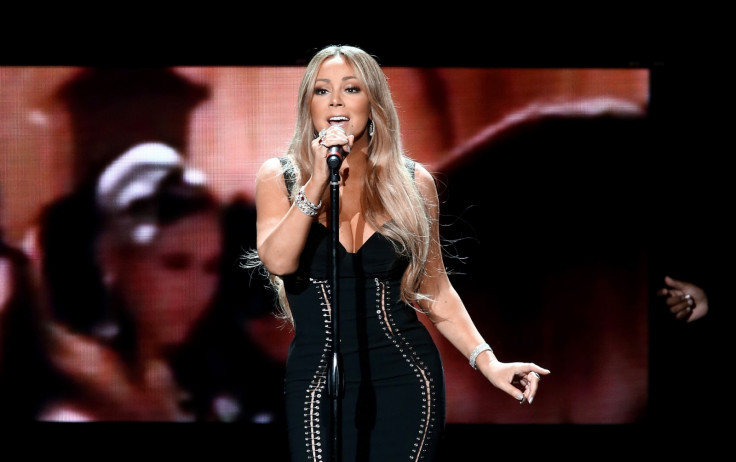 Mariah Carey made a triumphant return to the New Year's Rockin' Eve with Ryan Seacrest after last year's fiasco that sparked a row between the Without You singer and Dick Clark productions, with the two sides blaming each other over the songstress' embarrassing performance.
Carey, at the time, tweeted, "S**t happens...Have a happy and healthy new year everybody! Here's to making more headlines in 2017."
This time around, Carey made sure she was on top of everything as she mesmerised the audience with her music, kicking off with the 1990 hit song Vision of Love. She looked stunning as she rocked a glittering nude gown and white fur coat to keep her warm from the freezing cold weather while on the stage in Times Square.
After the completion of the song, Carey joked that mishap of 2017 would be not getting her cup of tea that she was promised on the stage.
"They told me there would be tea," she joked. "Oh, a disaster."
Carey's joke has turned into a meme. One such GIF doing the rounds on social media is a lady raising her eyebrows and sipping her tea from a cup. The caption of the meme reads, "That feeling when you steal Mariah Carey's hot tea."
While Carey made sure she did not suffer the same fate as last year, what made her step on the same stage, where she suffered a nightmarish experience the last time around, was a multimillion-dollar paycheck.
According to Daily Express, Carey will be bringing home $4.72m (£3.5m) for her 30-minute performance in Times Square, while Britney Spear will be racking in $377,664 for performing on 1 January in Las Vegas.
The publication added that music icon Willie Nelson, 84, and John Mayer will be taking home a little over a million dollars (approximately £740,000) for their performances in Austin, Texas and in Los Angeles, respectively.