Sentenced to four years in jail and facing a ban from public office, Silvio Berlusconi is planning to hand the reins of his political venture over to his eldest daughter, Marina.
First propagated by one of Berlusconi's mouthpiece newspapers, the plan has been publicly backed by some of his closest aides, who see in the 46-year-old Marina the best option to take control of Italy's centre right.
A child of Berlusconi's first marriage to Carla Dall'Oglio in 1966, Marina has a reputation as a strong, dour woman, in stark contrast to her flamboyant father.
Famous for rarely wearing a smile and donning minimalistic all-black suits, Marina Berlusconi has worked alongside her father from a young age and became the head of Fininvest, the holding company which anchors Silvio's business empire, in 2005.
Once described by Berlusconi's right-hand man Fedele Confalonieri as a "pneumatic drill" due to her restless working attitude, Marina has long denied holding any interest in entering Italy's political arena, but many believe her father's first definitive criminal conviction is a game changer.
Marina was among the handful of trusted advisors who were at Berlusconi's Rome villa when judges at Italy's highest court upheld a sentence for tax fraud against the media tycoon.
The 76-year-old is due to serve one year in custody starting from October, after three years were slashed under a 2006 Italian amnesty law.
However the sentence has also made him ineligible to run for political office, and therefore in need of a new leader for his Party.
Marina, Rod Stewart and Family feuds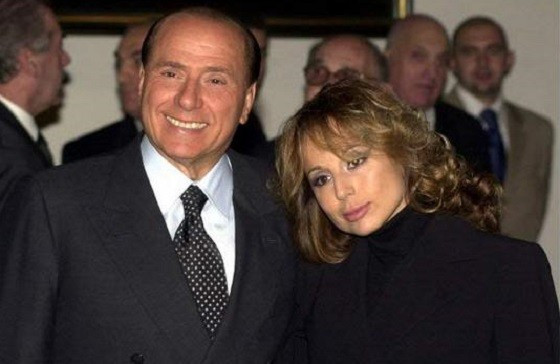 Marina's strong character was reportedly forged in her youth. For a couple of years she was not allowed to go to school and instead received private lessons at home, due to fears she could be kidnapped.
As Berlusconi's marriage with Dall'Oglio hit the rocks in 1984, Marina, then 18, relocated with her mother to the UK.
The two lived near Bournemouth, Dorset, where she claimed she worked for six months as a shop assistant in a clothing store.
In an old profile interview with Italian newspaper Corriere della Sera, Marina's British years were described as her "freedom, music and sex apprenticeship".
Free from bodyguards she developed a passion for Scottish singer Rod Stewart and her first long-term boyfriend, Giulio Tassera, whom she managed to keep out of the public eye until the late nineties.
Back in Italy she entered the Fininvest ranks and was appointed deputy chairperson in 1996. Two years later she reportedly persuaded her father not to sell his media empire to Australian mogul Rupert Murdoch, a move which her step-mother Veronica Lario strongly supported.
Marina's aversion towards Lario was widely known. "I can't really say she is my best friend," she once told Il Corriere. "But dad is happy with her and that's enough for me."
After Berlusconi's second divorce amid the Bunga Bunga scandal revelations, Marina has taken her father's new girlfriend Francesca Pascale, who is 18 years younger than her, under her wing.
A picture of the two posing together sporting a foxy look that was posted by Pascale, 28, on the internet in January, soon became the symbol of the young Neapolitan's recognition by Berlusconi's family.
'Topless Galatea' ready to start political dynasty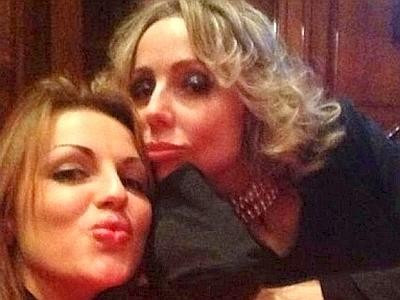 In 2008 Marina married Maurizio Vanadia, a former leading dancer in Milan's famous La Scala theatre. The couple have two children, Gabriele, 11 and Silvio, 9.
One year before the wedding, Corriere della Sera journalist Lina Sotis won a breach of privacy legal battle related to an article in which she revealed how, before dating Marina, Vanadia had long lived with a gay plastic surgeon.
A generally reserved person, Marina rarely features in the Italian media for matters other than related to the handling of Fininvest.
To the surprise of many a few years ago, topless pictures of her were published by Berlusconi's gossip magazine Chi - which came to global attention last year for printing naked pictures of the Duchess of Cambridge.
However, if Kate Middleton was depicted in unflattering poses under the headline "Court Scandal: The Queen is Nude!" Marina Berlusconi's décolleté was given a more favourable treatment.
In the article, journalist Aristide Malnati described Marina as a "wild beauty" comparing her to Galatea, a nymph fabled in Greek mythology.
According Italian media, 'Galatea' is now ready to become the flag bearer of Italy's centre right.
Her businesswoman credentials make her a perfect candidate for winning her father's voters' trust, as Berlusconi built much of his initial political success on a self-made-man image.
Berlusconi's surname will also help her hold the lead of a party that has revolved around her father for two decades.
"She is Berlusconi's heir," said Berlusconi's PDL party MP Laura Ravetto.
"All the great democracies, such as the US, have political dynasties like the Bushs and the Kennedys," Luigi Bisignani, a wheeler-dealer close to Berlusconi, told Radio 2.