Marine Le Pen's estranged father has suggested she is unfit to be the next French president, in an interview with the Sunday Times.
Jean-Marie Le Pen, 88, founded the Front National party that his daughter now leads, but was kicked out in 2015 as the party tried to steer away from his racist and anti-Semitic image.
He says he has reached out to his daughter several times since his ejection from the party – including to congratulate her following her first-round performance in the presidential race – but Marine has always turned away her father's attempts.
However, that has not kept the elder Le Pen, who is known for his outspoken nature, from airing his views about his daughter to the public.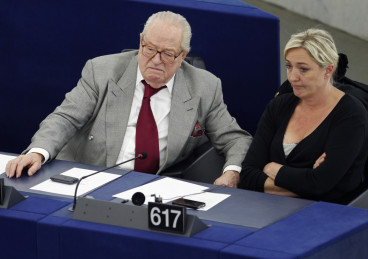 Speaking of her ability to be president, Le Pen said: "She has character; she doesn't lack that. But you also need other qualities."
He even suggested that his granddaughter Marion Maréchal-Le Pen, 28, a Front National MP since 22, would have made a better presidential candidate. "But she'll have to grow a bit older first," he added.
Despite the comments, he insisted he was not launching an attack on Marine and said he has "unequivocally" called for people to vote for her in the second round of voting on Sunday (7 May).
He insists, however, that she would have performed better if she had kept him around.
"They could have made use of my experience," Le Pen said. "But they did not ask me for anything."
He compared the family rift to an "Oedipal drama" in which "she killed her father" and maintained he did not know why she forced him out of the party, in spite of making comments that equated to Holocaust denial.
"What she did was a bad thing," he said. "It wasn't fair. It was inelegant and unjust."
"I don't know the reason for it," he added. "I cannot believe it was because of the 'detail'," he said, referring to his statements about the Holocaust being merely a minor detail of the Second World War.