Marine Le Pen 'steps down temporarily' as far-right National Front leader
Associated Press reported the surprise move after her party's best ever election result.
Far-right presidential candidate Marine Le Pen has announced that she is temporarily stepping down as her party's leader, the Associated Press has reported.
"Tonight, I am no longer the president of the National Front. I am the presidential candidate," she said on TV channel France 2.
"I will be above partisan considerations," she added. It is not clear if her decision will be permanent but said that France is approaching a "decisive moment".
It is not clear whether the announcement means she will no longer lead the party but still concentrate on being the candidate in the election's second round on 7 May.
Previously, Le Pen had stated that she is not a candidate of the National Front and the issues she stands behind are her own.
It follows the best-ever result achieved by her nationalist anti-EU and anti-immigration party in a French presidential election.
Despite this, one National Front supporter told The Independent: "I know our next President will be Macron."
He added: "It's still good that she made it to the second round – so let's celebrate anyway."
Jean-Yves Camus, analyst and president of the observatory of radicalism at the Jean-Jaures foundation said: "The score is extremely disappointing, very far from what had been forecast in the polls of recent months."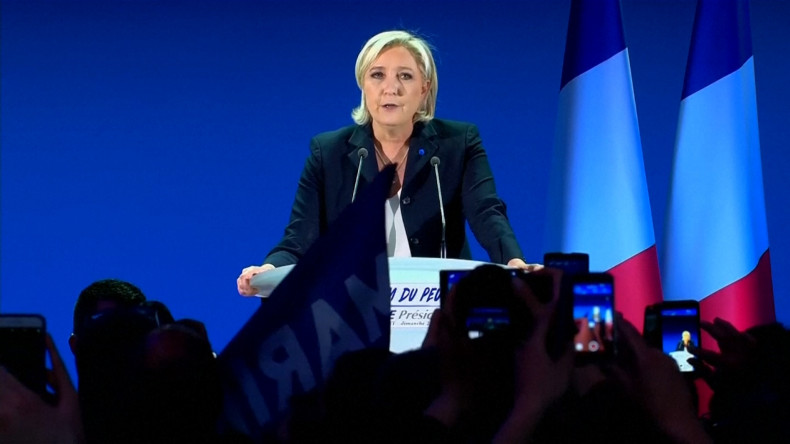 According to the official final count published by the Interior Ministry, Le Pen received 7.68 million votes, or 21.30%, behind centrist candidate Emmanuel Macron who collected 8.66 million votes, or 24.01%.
Conservative candidate Francois Fillon got 20.01%, and left-wing candidate Jean-Luc Melenchon, 19.58% of the vote. The other seven candidates were far behind.
Le Pen has attacked calls to unite against her and support her rival, the independent centrist Emmanuel Macron. She denounced "the old and completely rotten Republican Front" — the coalition of mainstream parties allied against her.
Support for Le Pen may be waning as none of the rival parties has called on its voters to support the far-right party with its anti-EU stance.
It could prove difficult for her to increase on the 21.5% she garnered in the first round of voting. However, she coud gain voters from the defeated centre-right candidate François Fillon.