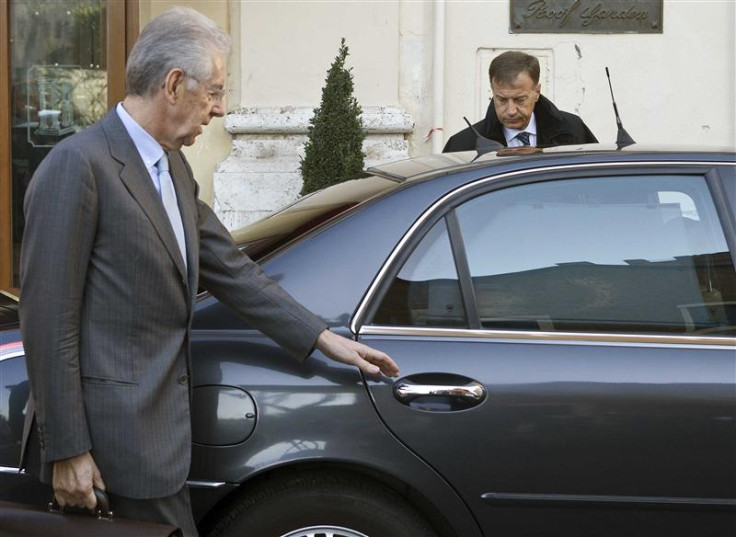 Former EU Commissioner Mario Monti will begin consultations Monday to form a new government of technocrats that could be sworn in by Wednesday as Italy is expected to push through a bond sale on Monday of up to of 5-year bonds worth 3 billion euros.
President Giorgio Napolitano offered Monti, 68, the post Sunday evening, less than 24 hours after Prime Minister Silvio Berlusconi stepped down following Parliament's approval of austerity measures demanded by the EU.
Berlusconi, who dominated Italian politics for 17 years, was greeted on Saturday night by angry crowds chanting "Clown! Clown!" and hurling abuse and coins at his limousine. He slipped out of the Quirinale presidential palace by a side entrance to avoid the crowd.
Still, Berlusconi's party, People of Freedom, remains the largest bloc in parliament. In a video message the embattled 75-year-old tycoon said he will not leave politics. "For those who say I am leaving the scene, I want to make it perfectly clear that tomorrow I will redouble my efforts in Parliament and institutions to renovate Italy reforming its institutions, judiciary, tax system," he said.
Berlusconi said agreeing to back a Monti government was an act of responsibility. "We must be united to confront a crisis that was not born in Italy, it wasn't born because of our debt, or because of our banks, it wasn't even born in Europe," he said. "It's a crisis that became a crisis because our common currency doesn't have the support that a real currency must have."
Accepting the office, Monti said Italy "must prevail in the challenge of redemption" in a particularly difficult moment for the country. "Italy must once again be an element of strength, not of weakness, in the European Union, which we helped found and in which we must be protagonists," he said.
Napolitano said Italy could not afford elections now with 200 billion of euros of debt maturing by the end of April. Elections must be held by early 2013. The duration of the government would depend on its actions as well as the reaction of markets and European institutions, Napolitano said.
Meanwhile, Italy's largest bank by assets, Unicredit Bank S.p.A., has announced that it will exit from its London-based equity sales and trading business to shore up its capital, and that it will cut thousands of jobs along with a 7.5 billion euro rights issue.
The austerity law approved by the Italian Parliament foresees around 60 billion of euros in savings from a mixture of spending cuts and tax hikes, with the aim of balancing the budget by 2014. Measures include a rise in VAT from 20 per cent to 21 per cent; a freeze on public-sector wages until 2014; a gradual increase in retirement age for women in the private sector from 60 in 2014 to 65 in 2026; stricter rules on tax evasion, including a limit of 2,500 euros on cash transactions and a special tax on the energy sector.