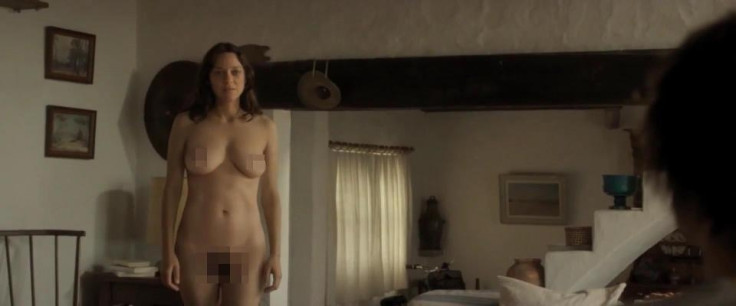 Marion Cotillard has stripped off entirely as her character Carlotta Bloom in the French movie Les Fantômes d'Ismael, showing off an incredible post-baby figure.
The 41-year-old Paris-born actor stars in the French drama as a wife who returns from the dead and sends her husband's wife into chaos. She stars alongside ex James Bond villain Mathieu Amalric.
In one gripping scene, mother of two Cotillard goes completely nude in the middle of the sitting room while seductively gazing at a seated Mathieu, showing off her incredibly toned yet voluptuous physique.
The story of the movie – which is also known as Ismael's Ghosts and is written and directed by Arnaud Desplechin – follows a filmmaker whose life is sent into a tailspin just as he is about to embark on a new film. His wife returns after vanishing two decades ago who was believed to be dead. Eerie stuff.
It also stars British actress Charlotte Gainsborough as Sylvia – a woman who began a relationship with Ismael after his wife vanished.
The film opened the Cannes Film Festival 2017 earlier this year in May.

Previously speaking about filming sex scenes, Cotillard said on Stephen Colbert's Late Show: "Imagine you're with your wife in bed and then all these people are watching – do you still find it sexy?" So we can't imagine her being completely comfortable about stripping naked in her latest flick.
Cotillard has enjoyed a successful acting career, winning the best actress Oscar in 2007 for her role in Edith Piaf biopic La Vie en Rose, and starred in four movies in 2016 including Allied. She also made time to give birth to her second child in March 2017 with her partner, French actor Guillaume Canet.
She has alternated between French and English-language roles in mainstream and art-house productions, and has received international acclaim and awards for her performances in other movies including A Very Long Engagement (2004).
Les Fantômes d'Ismael has been given an approval rating of 61% based on 18 reviews and an average score of 5.9/10, while it has received mixed and average reviews on Metacritic.