Just eight months after taking charge, and with shares up 33 percent, Marissa Mayer has unveiled a new-look Yahoo homepage giving you an "infinite" newsfeed.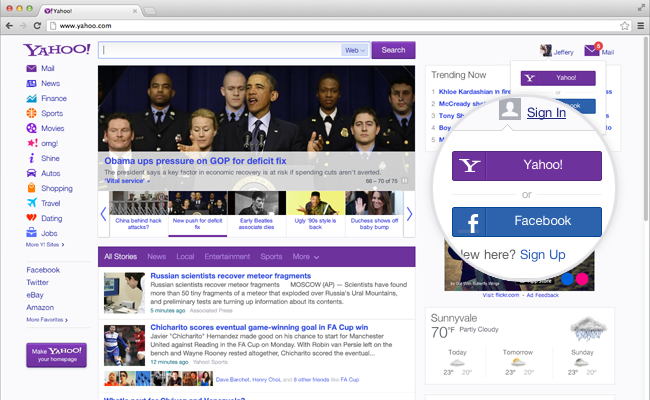 The updates announced by Mayer see a major change to the company's homepage, including an infinite news feed aggregating stories from across the web, Facebook integration and customisable applications.
Available only in the US now and aiming to offer users an experience that is more intuitive and personal, Mayer said the update brings news and content focused on your own interests and preferences.
Describing but not naming Twitter as inspiration for the design change, Mayer said in a blog post: "Since streams of information have become the paradigm of choice on the web, we're introducing a newsfeed with infinite scroll, letting you experience a virtually endless feed of news articles."
By default the new layout offers up a "blend" of news stories, along with content read and shared by your Facebook friends, but you can also filter the results to show news from specific categories, including general and local news, entertainment, technology and sport.
News you don't want to see can be removed from the feed, and Yahoo says that the more users interact like this, dismissing news that isn't relevant to them, the more accurate results will be; stories that catch your interest can be shared via Facebook, Twitter or email by clicking on the relevant icon.
Applications
There are seven new applications displayed on the right of the new home screen, including weather, stocks, sports, friends' birthdays, horoscopes, Flickr photos and popular videos from Yahoo.
Applications can be personalised, so a favourite team can be added to the sports app, local weather added to the forecast app, and stocks relevant to you can be shown in the finance section.
Yahoo appointed Mayer as its fifth CEO in five years last July, and since then the company has taken steps to turn around its recent poor form. Yahoo's share price has increased by 33 percent since Mayer took over, and despite giving birth in September the former Google employer was back at work two weeks later.
Also this week, Mayer announced that the recently redesigned Yahoo Mail service has seen a 10 percent increase in daily active users.
Yahoo's new homepage has also been updated for mobile use, so the infinite scrolling can be done on iPhone and iPad, and the mobile site has been made faster too, with a redesign that borrows gestures from the iOS Twitter app, such as swiping a story to one side to see sharing options.
Mayer said the changes represent a "new, more modern" Yahoo and concluded her blog post with a look to the future: "Over the coming months, we'll continue to make changes and improvements, so today is just the beginning."