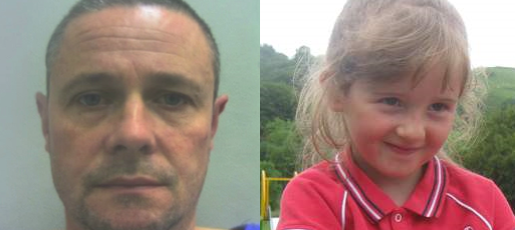 Mark Bridger has been found guilty of the abduction and murder of five-year-old April Jones.
Bridger, 47, was found guilty of the abduction and murder of the schoolgirl, who went missing from her home in Machynlleth, North Wales, in October 2012. He was also found guilty of perverting the court of justice by unlawfully disposing, destroying or concealing her body.
A jury found Bridger guilty of all three charges after just over four hours of deliberating at Mold Crown Court. He is expected to receive a life sentence.
Bridger previously admitted that he had "probably" killed the five-year-old, but said he does not remember what happened to her body. He denied disposing of it and said he had merely "placed it" where it had not been found yet.
April's disappearance sparked one of the biggest police searches in British history.
The prosecution accused Bridger of telling a "complex web of lies" about what happened to April and of playing a playing a "cruel game" by not revealing what happened to her.
It can now be revealed that while in prison, Bridger told a priest he had "flung" April's body into a river.
However, detectives treated this confession with caution, believing Bridger - an experienced abattoir worker - disposed of the schoolgirl's body by dismembering her at his home.
Traces of blood and burnt bone fragment from the her skull were found in the fireplace his home along with a number of knives near a wood-burning stove.
Bridger claims he put April's body in his Land Rover after accidently hit her. He then told the jury he panicked and does not remember what he put the body as a result of adrenaline and alcohol.
The court heard how experts found no evidence that his car had been in a collision on 1 October - the day she went missing - nor any trace of April's blood.
One of her friends, aged seven, told the court she saw April willingly get into the Land Rover on the day she disappeared.
Cold-hearted murderer and a calculated liar
During his closing statement, the judge told the jury to consider that Bridger had a catalogue of child pornography on his laptop and had invited a 10-year-old girl, who was friends with his daughter, over to his house for a sleepover on the night April disappeared. Pictures of local children were also saved from Facebook on to his laptop.
The court heard that just hours before April went missing, the 47-year-old viewed a pornographic cartoon which depicted a young girl being gagged and raped.
Bridger had also searched online for "British girl murdered in France", "ten year old girls naked", and "pictures of ten year old girls".
Bridger also had images of murdered Soham schoolgirls Holly Wells and Jessica Chapman on his laptop and pictures of April's half-sisters, aged 13 and 16
Ed Beltrami, chief crown prosecutor for CPS Wales, said: "Ever since his first interview with police in October, Mark Bridger has relentlessly spun a web of lies and half-truths to try to distance himself from the truly horrific nature of the crime he perpetrated. He has refused to take responsibility for what he did to April and has stopped at nothing to try and cover his tracks.
"Despite his best efforts to evade justice, he has been brought to account. We have been able to comprehensively dismantle Bridger's version of events and expose him as a violent, cold-hearted murderer and a calculated liar.
"At the very heart of this case are April's family, who have been through - and continue to go through - an ordeal of appalling magnitude. They have conducted themselves with a humbling dignity throughout.
"We can only hope that today's verdict will be of some help to them as they continue to try and come to terms with the loss of April."