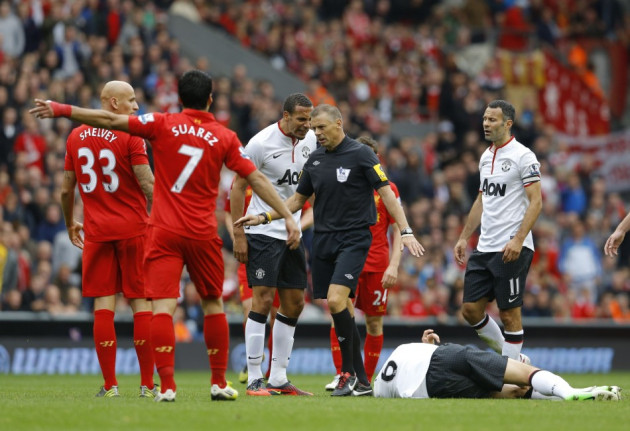 Mark Halsey, the referee who sent off Liverpool's Jonjo Shelvey and awarded Manchester United a crucial penalty during yesterday's match at Anfield, has received a stream of vitriolic messages on Twitter.
Halsey, 51, is a cancer survivor, and Liverpool supporters used the microblogging site to mock his long battle with the disease - despite both Liverpool and Manchester United appealing for respect before the match.
One user @johnwareing1, said: "'I hope Mark Halsey gets cancer again and dies". Meanwhile, @lfcjohn259 wrote: "Mark Halsey should've died of cancer".
Neither Twitter account is presently active (there was the word "apologies" posted on @LFCJohn259 's account before it was removed) but there are a string of furious comments about the impropriety of @lfcjohn259's remarks.
@IrishWelshCelt said: "People like @LFCJohn259 dont deserve to live after tweeting "Mark Halsey should've died of cancer"", while @kevcorbett: "I'm no saint but @johnwareing1 and@lfcjohn259 should be ashamed of themselves - made your parents proud there!"
@Alonso_Football wrote: "@LFCJohn259 Absolute disgrace. How can you ever wish that awful disease on somebody?! You should be ashamed."
The Daily Mail claims that the Professional Game Match Officials Ltd will provide Halsey and his family with psychological support if needed and will excuse him from the Capital One Cup match between Southampton and Sheffield Wednesday on 25 September if he is suffering any psychological damage from the Twitter abuse.